By the time you discovered Tigersheet, you'd probably already made an Excel sheet or two (thousand). Perhaps you painstakingly copied and pasted all those spreadsheets into Tigersheet. Or, maybe — faced with the inescapable drill through Microsoft Excel — you left it alone.
We understand your pain.
We want to make it as simple as possible to turn your pile of spreadsheets into one magical Tigersheet application. So, now you can select "Import from Excel" and pick the Excel sheet you want. Within seconds, your spreadsheets are magically transformed (imported) into Tigersheet.
Still not convinced by the ease & simplicity? Here are five very specific reasons you should consider bringing all of your Excel sheets to Tigersheet
Microsoft Excel is slow. Tigersheet is Fast and Easy

The more data in the spreadsheet, the slower Excel is to respond.
Excel was only designed to handle so much data in each report. The problem is, the size of the report not only impacts the time it takes for the spreadsheet to load but also the time it takes to make any changes to the data within the document. As a result, many businesses start to use multiple spreadsheets or worksheets to make the data more manageable.
However, speed is never an issue with Tigersheet! Tigersheet is robustly designed to handle your data so you can seamlessly navigate between sheets and leverage the power of a custom made application that tailors your business needs. Since no coding knowledge is required..sometimes it is even possible to push your apps in a day!
No aspect of Tigersheet is static and inflexible. In fact, everything is based on configurations. Whenever you want to add or modify something, you can do so in a matter of minutes.
Familiarity of a Spreadsheet & Way Lot Smarter Than It
Spreadsheets: we all love them. They're pretty easy to start and can help you structure your thoughts and your data in a straightforward way.
On that note let us break that to you Navigating your way around Tigersheet is super easy too. If you have utilized spreadsheets before, then you may find that this solution acts in a similar manner. This means that you can enjoy its simplicity while leveraging its power.
The fact that millions of people out there use spreadsheets to manage their data is a good start for us. So, we make the experience application development a lot like using spreadsheets, something everyone knows.
Multiple Sheets= More Issues
What starts with a plain 'data.xls' modifies quickly to 'data edited.xlsx' and then 'data final. xlsx.' Then 'data final new.xlsx' pops up, followed by 'Copy of data final new – edits Mike.xlsx.
And not to forget, all these spreadsheets will land up in your inbox at the same time. Soon, your team will spend half of their valuable time figuring out if they're looking at the latest data or not and copying data between sheets to hopefully collect all relevant data.
But, Not to Forget…There You found Tigersheet. Your spreadsheets are now in an easy-to-find place — Tigersheet that neatly organizes into separate sheets and reports — and can be shared with teammates with a single sharing tab.
Drag and Drop Templates
Tigersheet opens a world of interactivity for your Excel Sheets For example, you can gather more feedback and judge the real-time sentiment of your data.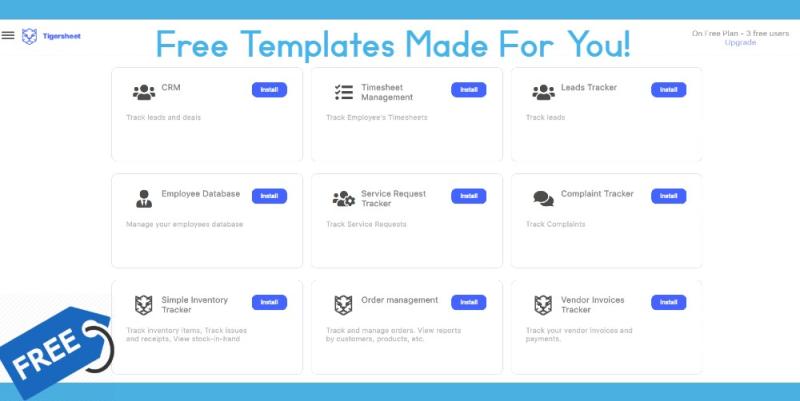 Don't Know How to Get Started? We have a lot of FREE templates made for you!
Try out our Free Order Management, CRM, Sales and Invoice Tracker, Ticket Management, and other #templates. Whichever department you are in (production, customer service, project management, research, procurement, warehousing, HR), there is always a suitable data management template designed to make your work easier and faster!
Create reports and analyze them through insights and stats shared via interactive dashboards
Using powerful reporting you create pivot tables, charts, Kanban,, or timelines and share them instantly across your teams.
More control over who can do what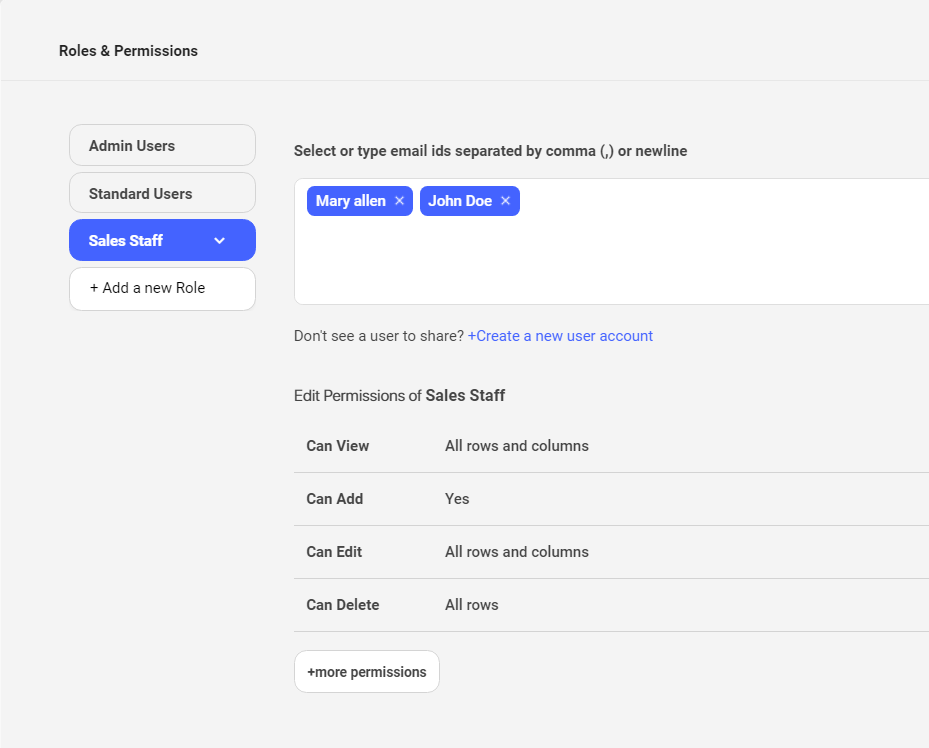 With Spreadsheets, people can view, comment, or edit; there's nothing in between. What if you want to let people add more items to a table, or give their feedback without risking them accidentally changing any of your document?
Tigersheet offers Role-based Settings, which gives you a lot more control over who can do what. This becomes crucial particularly in scenarios when you have several team members on board & it becomes imperative to protect sensitive data. Tigersheet helps you ensure the confidentiality of such information with role-based access settings. You can configure these to make certain that only particular users can launch certain tasks and perform specific actions.
A Sheet that Gets Better Over Time
When was the last time Microsoft Excel added new functionality?
Tigersheet introduces new features from time to time so your data and applications can get better and better. Recent examples: Parse Email to Sheet lets you parse incoming emails for key information and import this email data into an auto-updating sheet. And so, you don't have to struggle with a tedious copy & paste manual routine anymore!
And there are more things in the pipeline.
In the meantime, we'd love to hear your feedback.