Your team is well equipped with staff, the market campaign is running in full swing, and the key projects have successfully launched. Yet the business isn't growing…

One of the major problems that get often overlooked – but creates a great hindrance to growth and innovation- is manual, inconsistent processes that restrain productivity.
Many organizations today are rapidly embracing automation, and for a good solid reason: A recent survey demonstrated that employees want their employers to automate manual, repetitive tasks, and give them time back to focus on higher-value work. As per the survey report, more than 59% of workers have said that automating manual tasks can save them six or more hours per week.
Here's an infographic- that offers in-depth knowledge of what workers think about automation- and the top 3 efficiency killer tasks they want their employers to automate.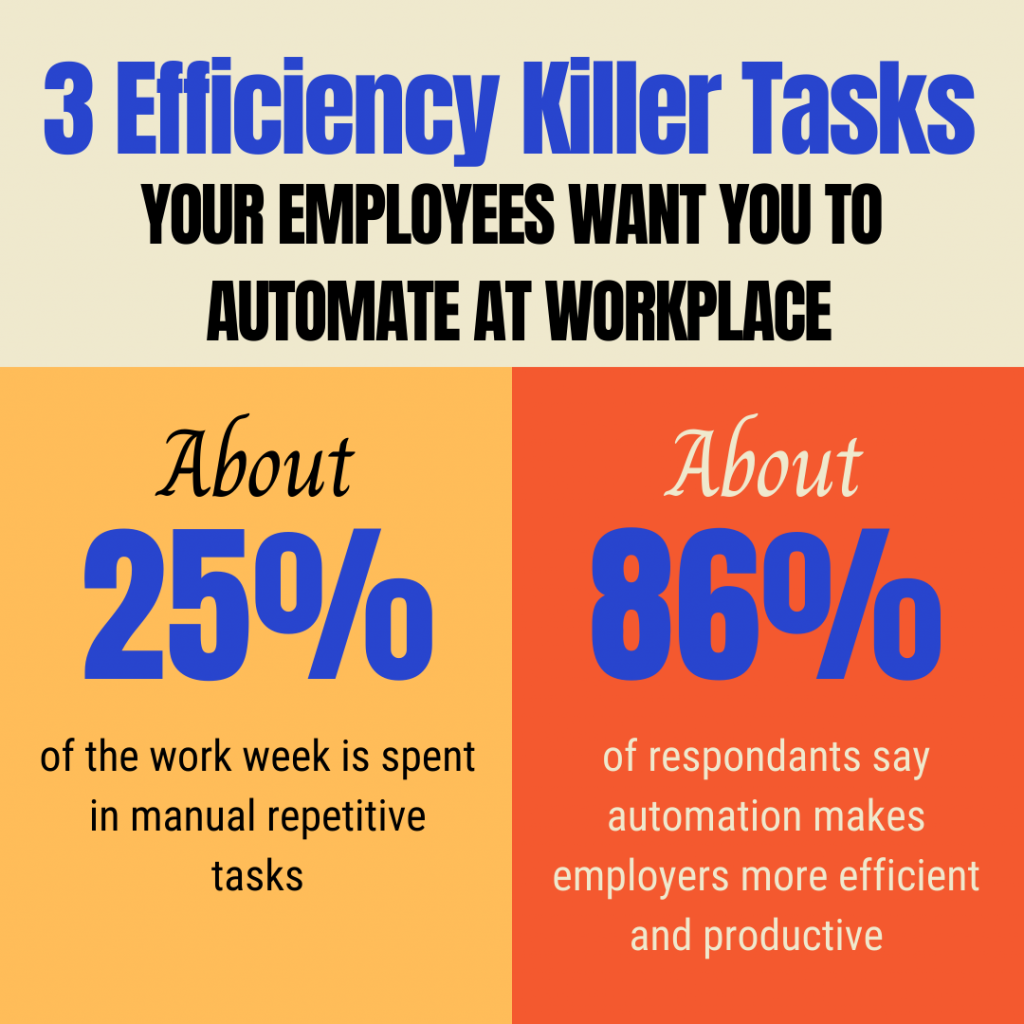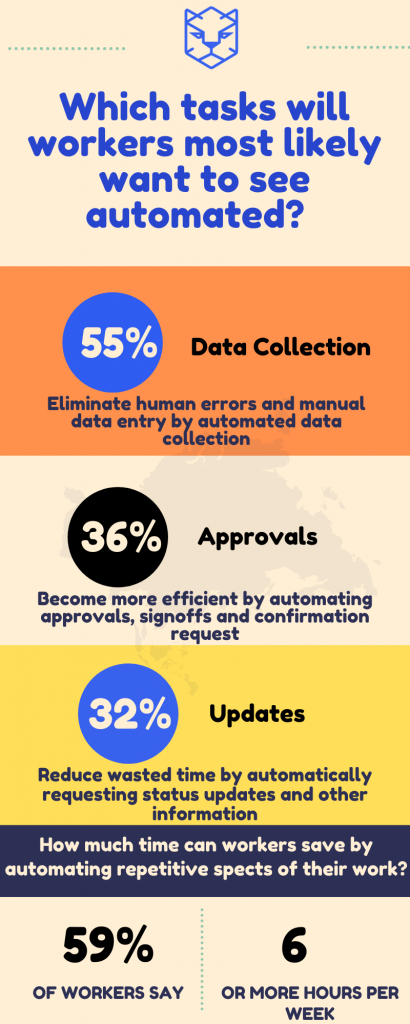 Repetitive, manual tasks steal time and energy that could be better spent on critical business tasks. Here are three of the most common reasons your business isn't reaching its potential, along with solutions:
Data collection is tedious and boring. But, you need data to run your business-sales figures, profit/loss numbers, expenses, etc. but manual data collection and analysis can take hours (or days). Error-free, consistent, and organized data becomes easy to achieve with automated web forms.
Approval processes drag on. Major business decisions aside, routine approval requests needed for tasks like expense reports, equipment purchases, and time off requests can be quickly approved when there are established guidelines. Instead of facing delays when requests get lost in email and approvers try to conquer their inbox, automating the process reduces email churn. Using automated triggers & alerts keeps the process flowing.
Reporting on updates monopolizes resources. Employees need to keep managers, teammates, and direct reports informed about the status of work, but it often comes at the cost of the real work getting done. By automating processes, project updates and key results can be done instantly, freeing up time to make an impact. Stakeholders gain instant insight into the progress being made. You save time by automating key tasks, without needing to invest significant amounts in new software or skills.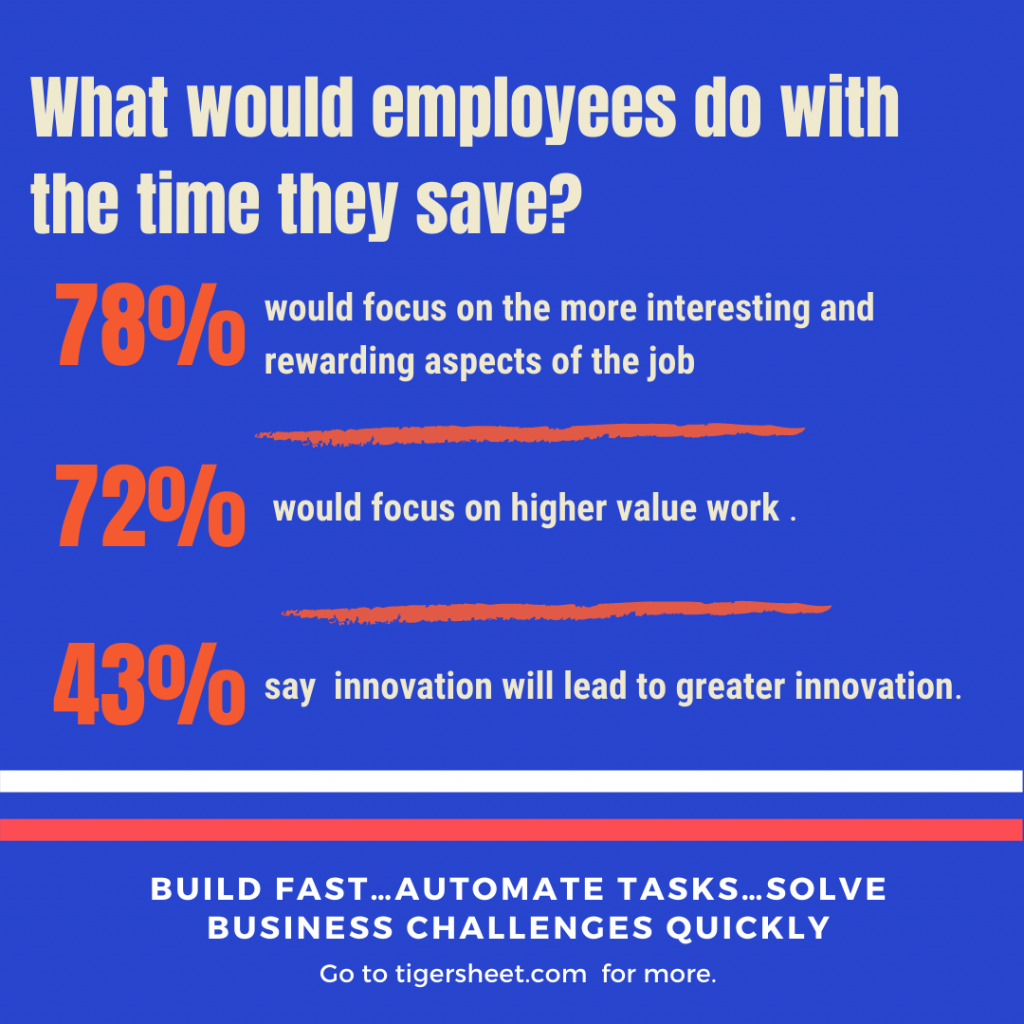 ---
Take the next step…
If you can't decide where to begin, check in with your people. Select a single team or pull together a small group of folks to identify opportunities to automate processes, like setting up automated alerts for expense reports or gathering details for weekly sales reports. Once you begin, you can always scale up the solution to automate other processes.
Your business is likely already using business tools, so you can also start there. Identify the solutions adopted by teams that may be useful for other departments. From there, a business automation platform like Tigersheet could help you corral the myriad solutions your teams adopted individually.
Removing the impediment of repetitive tasks for your employees frees them up to focus on the work that matters: strategic thinking, innovation, and problem-solving. These are the activities that truly power your business and propel it forward. Making a small investment now in automation tools and taking the time to master them will pay dividends tomorrow.