I
S NO CODE VIABLE FOR BUSINESS? Breaking The Benefits of No Code…
With constant innovations in the technological landscape, there can be confusion about new offerings that are becoming popular. One such new offering is low-code no-code development. To non-technical people, no-code can sound like a dream – being able to create applications with no technical knowledge needed? Amazing.
However, no-code might also sound too good to be true. This is where the question comes in – Is No-Code Viable for your Business?
Below is an infographic where we have broken down the top benefits of no-code and what benefits it can bring to enterprises and entrepreneurs. While moving later we have tried to answer the question if no code is viable for businesses?
If you would like to brush up some basics on what is low code and no code and how are two different. We would recommend heading to this blog post:https://tigersheet.com/blog/low-code-vs-no-code-whats-the-difference-infographic/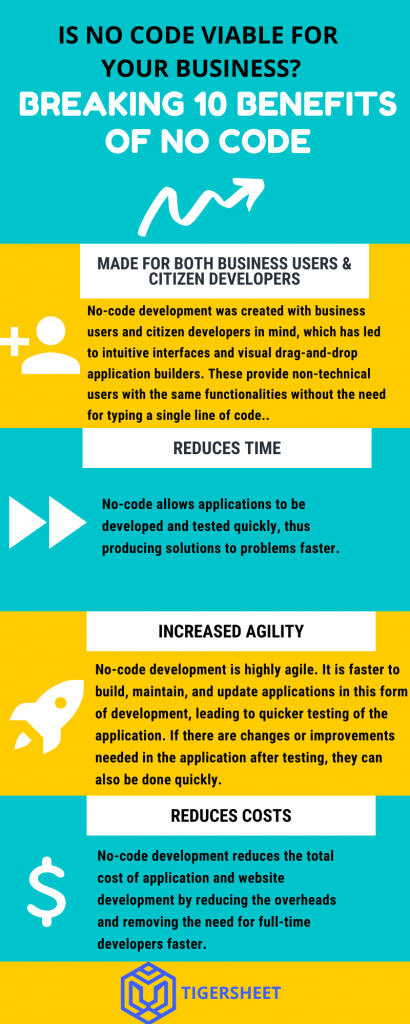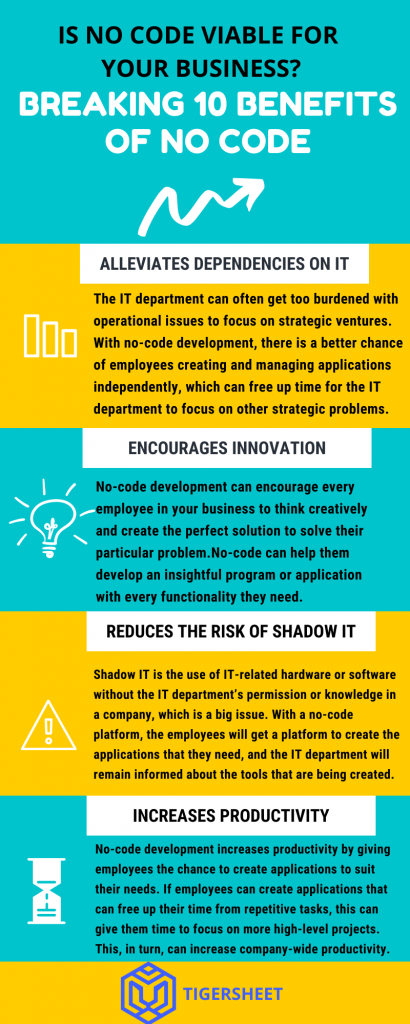 Answering the Question: Is no-code viable for enterprises and entrepreneurs?
Yes, no-code is a viable solution for entrepreneurs and enterprises who are looking for solutions that can provide the above benefits. No-code solutions will be faster to market, easy to maintain, and easier to test than solutions created by a full team of developers.
Is no-code viable? Yes, and it may have different benefits for different users.
No-code solutions can be perfect for entrepreneurs/business users and enterprises:
For entrepreneurs/business users:
No-code can be helpful for entrepreneurs specifically because they will be able to build and test their business ideas much faster. This method is also very cost-effective, leading to quick solutions at a minimal price.
The entrepreneur will also not have to take on the risk of hiring and managing a team of developers working on creating a solution.
Through no-code, the business user will have the capability to create a program or application that embodies their vision and perfectly fulfills their goals.
Apart from building the MVP with no-code, entrepreneurs can also use no-code to automate their business processes across departments.
For enterprises: No-code platforms can help small and medium enterprises automate processes across different departments on a single platform. Over a period of time, these enterprises can possibly build custom ERPs on no-code platforms. In large enterprises, where an ERP already exists, a no-code platform can help automate processes that the current ERP does not handle and then integrate these new processes with the core ERP.
Summary
No-code development is one of the best tools that an entrepreneur or enterprise could use to transform their idea into an actual digital application or program.
With its numerous benefits, no-code development is the way to go for faster turnaround time, faster time-to-market, better flexibility, and finding innovative solutions to specific problems. Hopefully, this article helped you answer the question 'is no-code viable for me'?
Tigersheet is a no-code platform that can help you build bespoke applications using our intuitive visual drag-and-drop builder. Experience the benefits and viability of no-code development right now with our free trial!



IT
5 Big Challenges facing CIOs and IT leaders in Pandemic 2021

LCNC
The Ultimate Guide on How to Find a Low code/No code Platform for your Business

LCNC
5 Important Metrics to Measure the ROI of Low-Code

LCNC
8 Essential Factors of Low-code/No code Software


LCNC
The Best No-code Apps for Website Development

IT
Task Management App Vs. Work Execution Platform: What Do You Need and What's the Difference?

IT
Digital Transformation: 7 Important Questions for Your Organization

LCNC
7 Reasons Why Low code is the Ideal Solution for Business

IT
Top 10 Types of Software Every Business Needs-Infographic

General
The Best Airtable Alternatives to Look Out for in 2021 and Beyond