L
ow Code vs No Code. What's the Difference? [Infographic]
You may hear the terms "No Code" and "Low Code" thrown around by developers and entrepreneurs. There's a lot of ambiguity as to what these terms even mean. To add to the confusion…
At first glance, it's easy to confuse low-code and no-code. They sound the same for one. Even the big analyst firms seem to have a hard time differentiating them. Gartner views "no-code" application platforms as part of the low-code sphere, lumping them together into its latest Magic Quadrant for Enterprise Low-Code Application Platforms, 2019 (LCAP).
But there are a number of very significant differences between low-code and no-code platforms. If you're considering moving away from traditional application development, or even just want to try out visual application development, you'll want to be aware of what you're getting in each offering.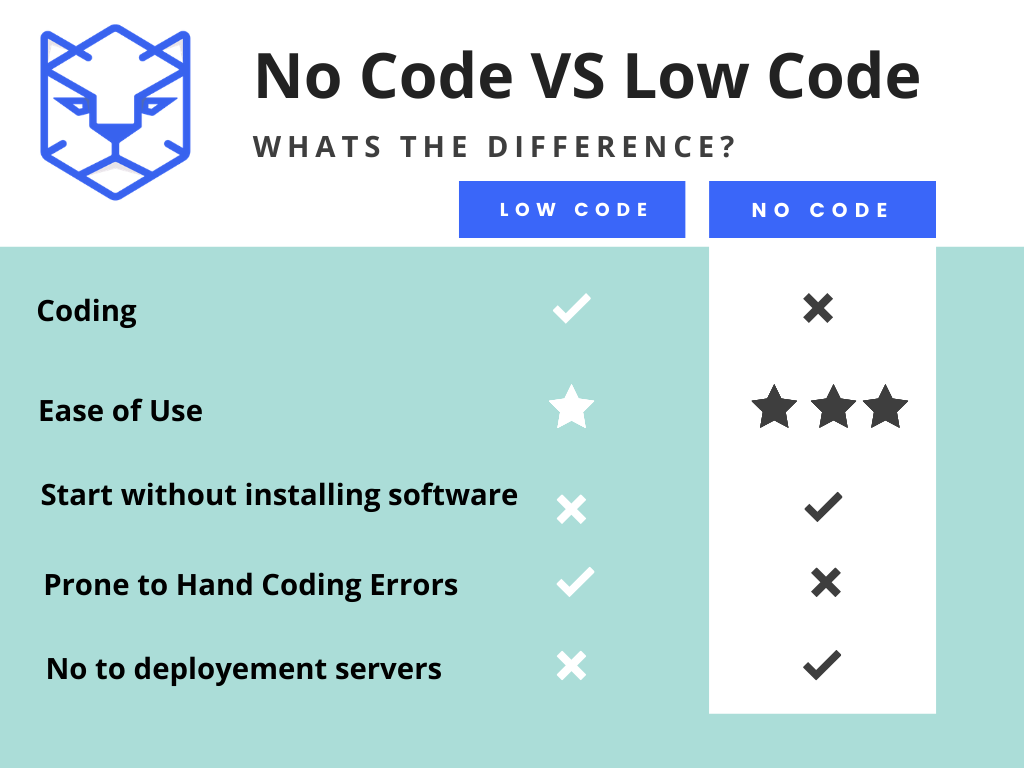 Low-code vs No-code: Decoding the difference
The key differences between low-code and no-code platforms are their target users and their output capabilities.
Low-code platforms primarily target developers, enabling them to rapidly build working front-end prototypes in a matter of days, or even hours.
This allows them to get to the most interesting part of software development much faster: customization.
Low-code platforms are suitable for the creation of more complex applications and processes that require integration with other application databases or systems.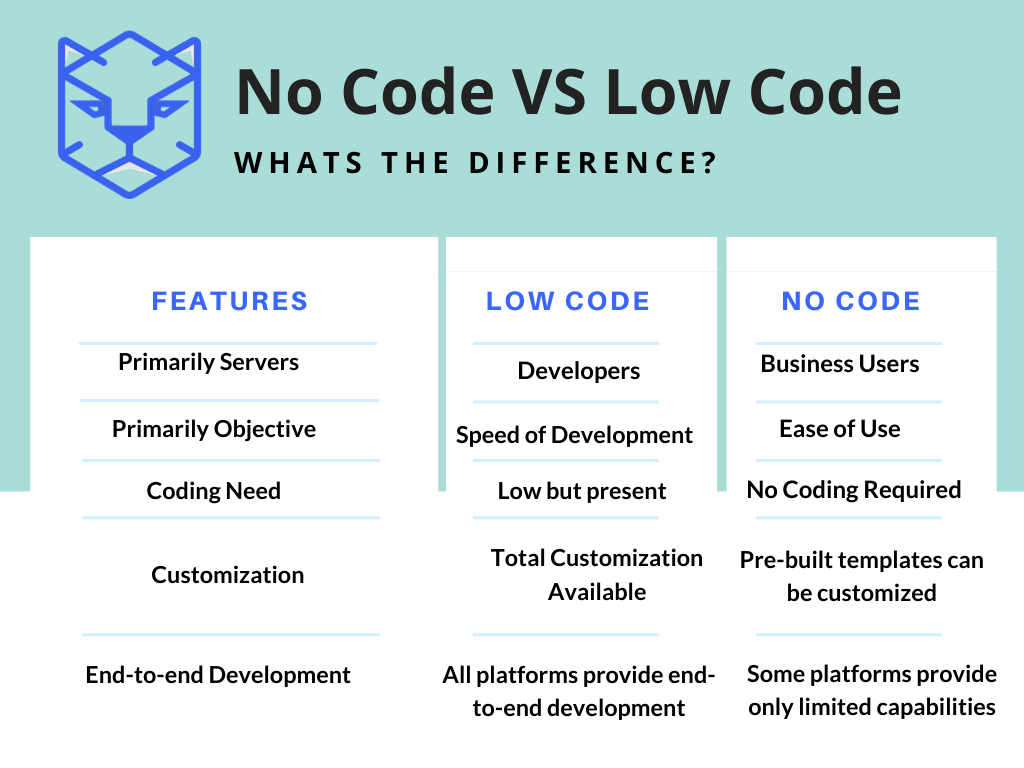 No-code platforms target smaller businesses, those without the budget to outsource development, or hire a developer internally.
Using a no-code platform, a citizen developer can create and deploy complete applications without needing to write a single line of code.
The downside of this speed, ease, and simplicity, is that no-code platforms are only really capable of developing basic applications that don't require integration with any other systems. They may help to simplify a manual internal process, but they simply don't have the capabilities to develop competitive, innovative software.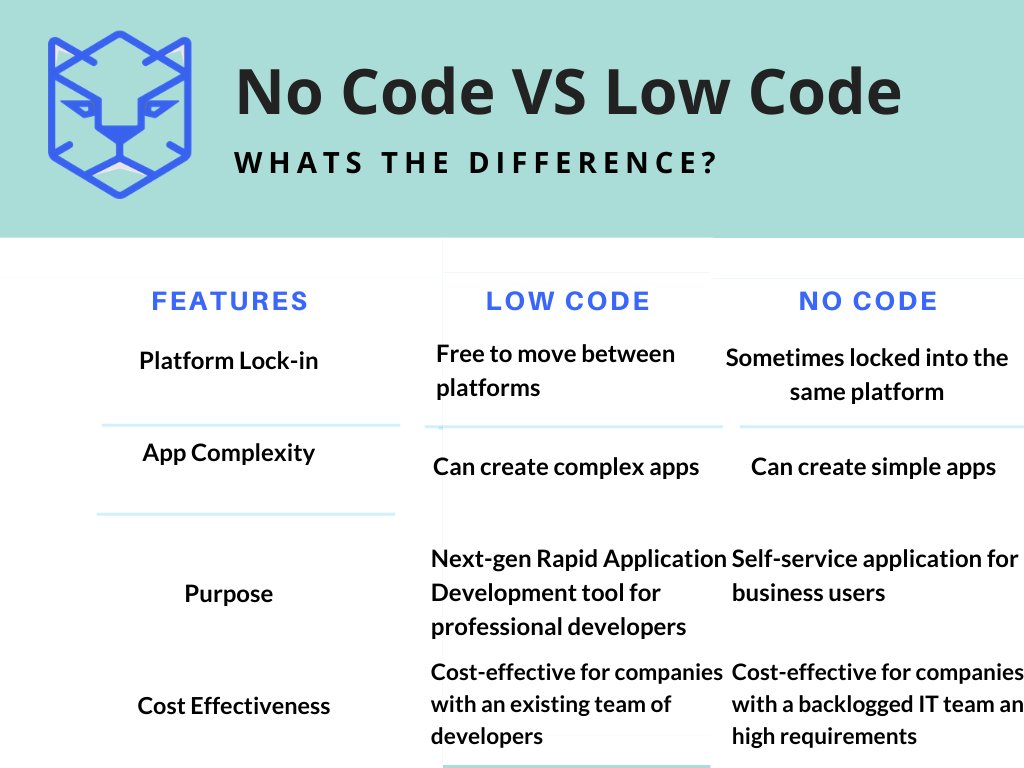 Low-Code vs. No-Code: When to Use What
Both low-code and no-code platforms are built with the same thing in mind: Agility. And although at a distance they look similar, each is suitable for very different purposes.
Low-code is good for developing sophisticated applications that run important, often mission-critical processes at the core of your business. It's also good for building standalone mobile and web apps that may or may not require sophisticated integrations. In fact, it can be used for just about anything.
Conversely, no code's limitations mean it should only be used for front-end use-cases.
Having said this, there's room for both, or at least a combination of both, in the modern enterprise. And for those embracing DevOps—another methodology designed to create greater agility in development—the combination of low-code and no-code could present the perfect application development environment.
In a world where everything has to happen faster, both low-code and no-code platforms can provide a competitive advantage for developers and the organizations employing them. However, unless you're developing only the simplest applications, and require little in the way of customization, low-code will always be the better option.
Low-code offers greater flexibility and control, which means you can build more varied, powerful, and responsive apps. Yet, it still has the simplicity to get those apps up and running much faster than if you were to hand-code them. And, since low-code still requires some knowledge of coding, you know the people creating your applications will do so properly, and your new applications won't saddle you with security risks or compliance issues.
Tigersheet for No Code Development
At Tigersheet, we acknowledge that technology is at the tip of the iceberg. Change is always more significantly more complicated than merely designing a new application or moving to a new infrastructure.
That's why we do what we, helping organizations get the most of their technology today and tomorrow. Whether you need to replace an accounting system or develop a plan for becoming truly cloud-native,
our experts can help your experts build a plan and move ahead. And,
most importantly, we can help you manage change along the way.

Sign up to Tigersheet For Free and Leave the Rest Upon Us!


IT
5 Big Challenges facing CIOs and IT leaders in Pandemic 2021

LCNC
The Ultimate Guide on How to Find a Low code/No code Platform for your Business

LCNC
5 Important Metrics to Measure the ROI of Low-Code

LCNC
8 Essential Factors of Low-code/No code Software


LCNC
The Best No-code Apps for Website Development

IT
Task Management App Vs. Work Execution Platform: What Do You Need and What's the Difference?

IT
Digital Transformation: 7 Important Questions for Your Organization

LCNC
7 Reasons Why Low code is the Ideal Solution for Business

IT
Top 10 Types of Software Every Business Needs-Infographic

General
The Best Airtable Alternatives to Look Out for in 2021 and Beyond