T
op 10 Low Code-No Code Blogs & Resources to Follow in 2020
What is the perfect way to keep a tap on Low Code/No Code (LCNC) news? Follow a Blog, Head to a Digital Tech Magazine or subscribe to newsletters..
It seems like every software funding and product announcement these days includes some sort of reference to "low code or no-code" platforms or functionality. The frequent callbacks to this buzzy term over the last few years reflect a realization that we're entering a new software era. Low Code- No Code platforms have enabled programmers and non-programmers to build application software by using graphical user interfaces and configuration rather than conventional computer coding.
On that note, We at Tigersheet have curated this list of the best blogs to follow for Low Code/No Code (LCNC) resources and news articles. We hope you can add a few of these LCNC blogs to your reading list.
The Low Code Daily
The Low-code daily is a daily curation of the most important news in the Low-Code industry Curated by Nigel Warren.
If you subscribe to the site, you'll receive a daily digest of news and articles from "the world's leading providers of Low-code and no-code application development platforms".
Therefore, the low-code daily is a highly popular low code resource that regularly pops up on our screens.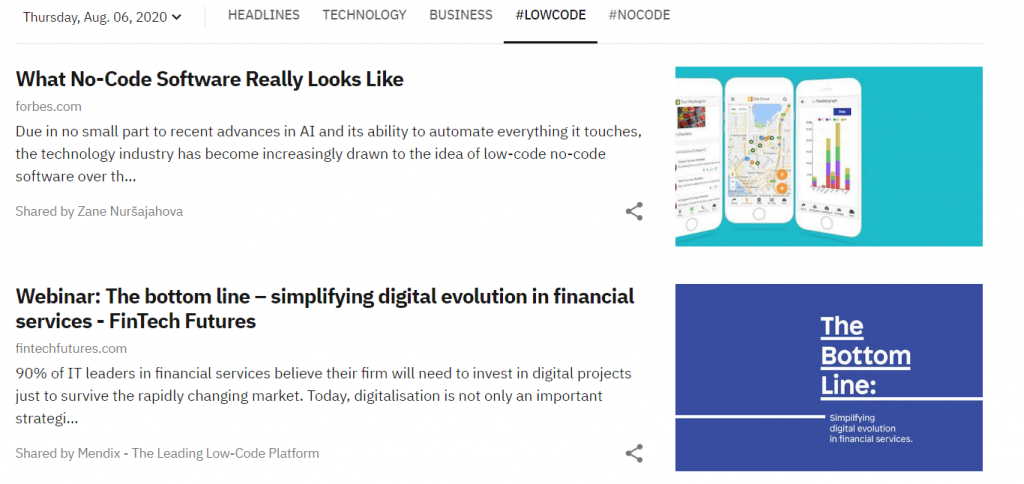 The No-Code Journal
The No-Code Journal is a digital magazine that provides resources for anyone interested in learning about No Code, Low Code, Visual Development and Citizen Developer news, insights, and trends. It includes articles written by over a team of No Code enthusiasts who come from varied technology backgrounds and experiences.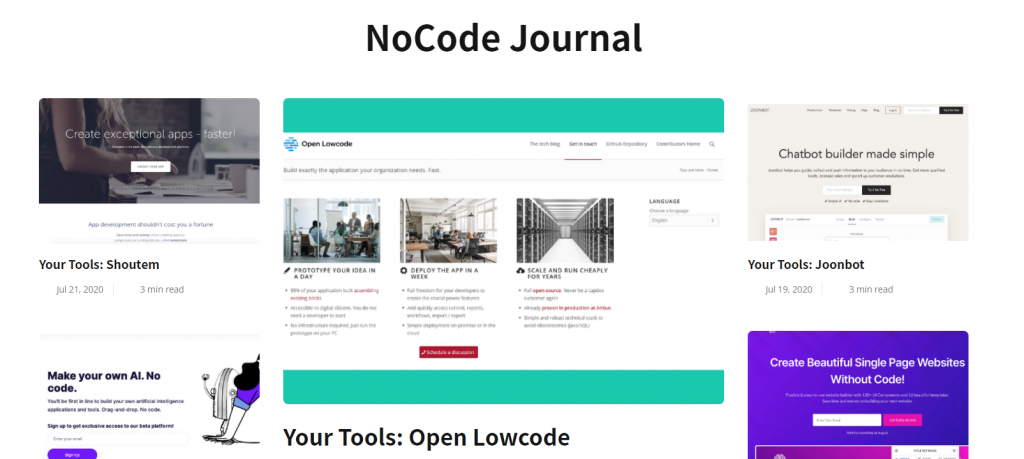 https://www.nocodejournal.com/
CIOReview
This one is a popular name, you might be familiar with. CIOReview is a technology print magazine. It provides the latest technology news, articles, insights from the industry. CIOReview stands out from others by listing articles from top CIO's CTO's and CEO's in the industry. They have a huge number of audiences who read their digital magazines, news, company listing, and so on.
The Good Part: It also has an entire section just for low code relevant topics. So, you can easily navigate to the category and get access to all the latest news on low code.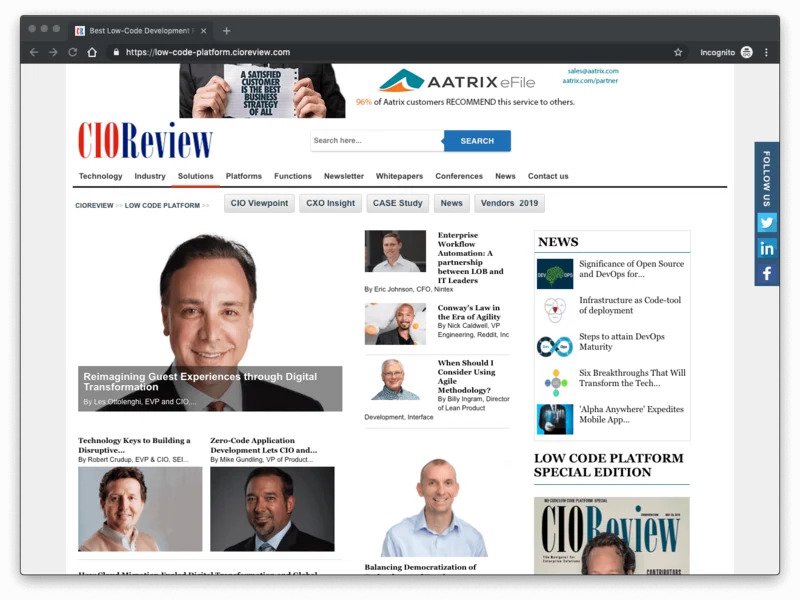 https://low-code-platform.cioreview.com
Forrester and Gartner
Ok, so these aren't classical blog entries like others, but are renowned consulting and research firms that continue to dominate conversations on low code no code space.
Forrester is widely known for its enlightening analysis and evaluation of existing low code platforms. It is interesting to note that Forrester is a pioneer to define the term 'low code' in 2014 as a part of establishing it as a distinct category for evaluation.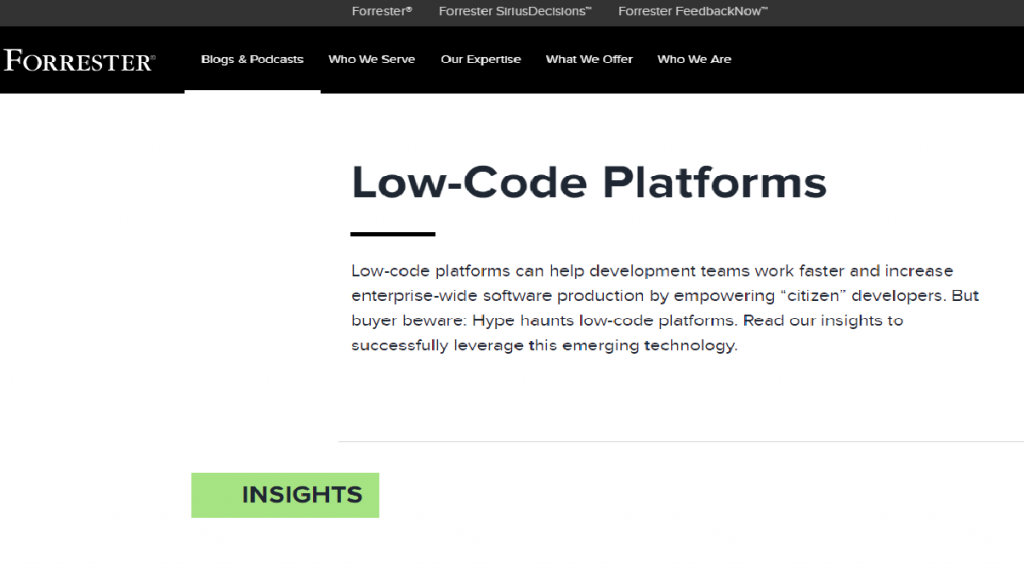 The Forrester New Wave, a comprehensive industry report, examines the top 13 low-code solution providers in the U.S. market. These reports use a 10-category scoring process, including its user interface development, data management, digital process automation, reporting tools, cloud platform features, and many more such parameters.
On the other hand, Gartner, the second leading name in the low code world is an IT research and advisory firm, offers an in-depth look at low code's impact on businesses. Every year, Gartner releases its "Magic Quadrant" report, which analyzes the high productivity building of applications, including mobile apps. One thing to be aware of is that Gartner utilizes its own definitions of low code and no-code, meaning its results while sharing some similarities with Forrester's report, is fundamentally different.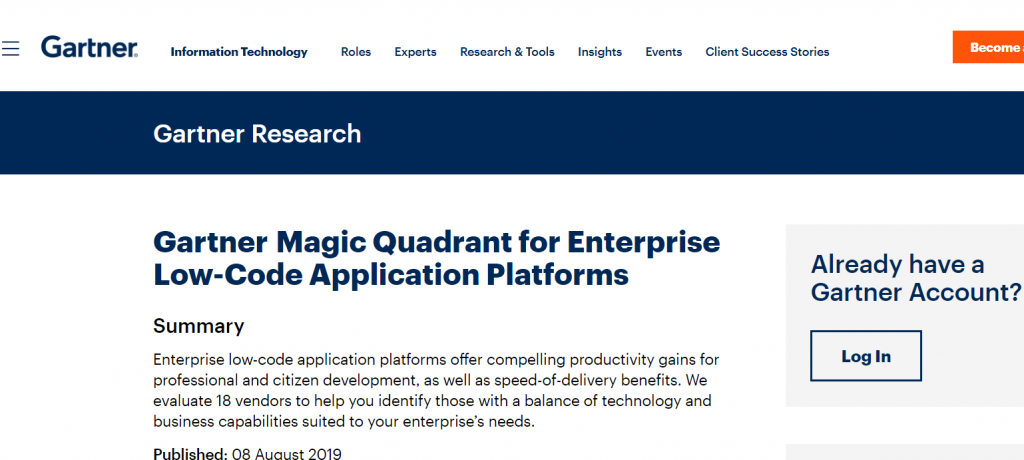 John R. Rymer
Well, we know what you are thinking, he isn't a blog, CORRECT!
However, John is such a major source of inspiration that he just can't be left out of this list. John R. Rymer – Vice President at Forrester Research – has been the person inviting the industry and coining the term of Low-Code.
According to his Forrester bio, Rymer is an "authority on the enterprise strategies of IBM, Microsoft, and Oracle and contributes to Forrester's coverage of low-code application platforms and business rules platforms." Rymer's market analysis has been featured in a number of publications including TechRepublic, VentureBeat, TechCrunch, and Fortune. Therefore, we highly recommend following him and his content online.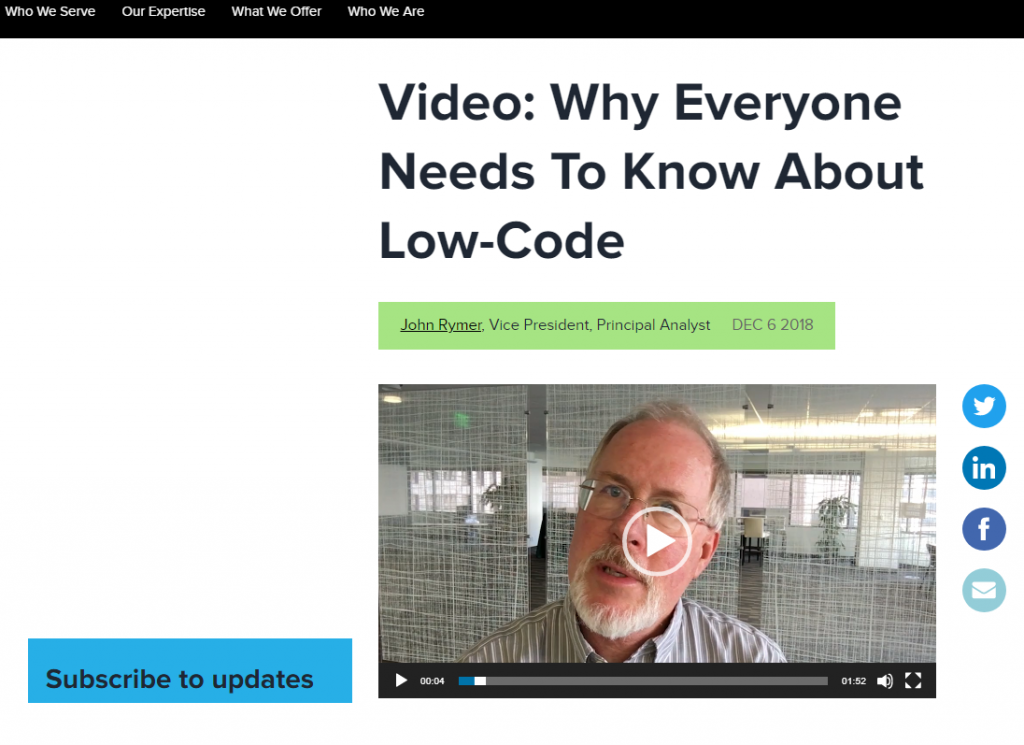 go.forrester.com go.forrester.com


ADTMag: Application Development Trends
ADTmag.com provides the latest enterprise application news, trends, and best practices to help readers tackle the broad range of issues that enterprises must cope with every day.
Although ADTMag is rather a fully-fledged development magazine, it has a good variety of low-code relevant blog articles in there, too.
ADTMag in general – and its low code section in particular – is definitely a blog we recommend checking regularly for new low code articles.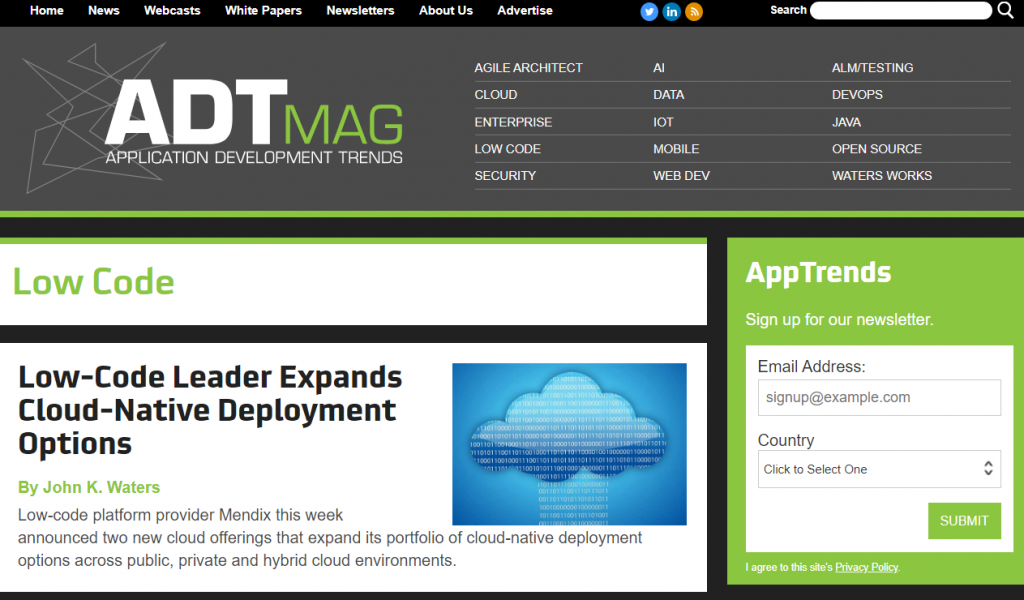 https://adtmag.com/pages/topic-pages/low-code.aspx
DZone
If you work in the software engineering realm, chances are high that you would be familiar with DZone. DZone is a great platform providing a broad variety of tech-related content.
With more than 70,000 articles overall, DZone has been a great resource for us many times. And while they don't have a separate low-code section on their site (yes, looking at you, DZone), you'll find plenty of Low-Code content. Actually, there are more than 70,000 articles alone for the topic of low code.
Simply start a search query yourself.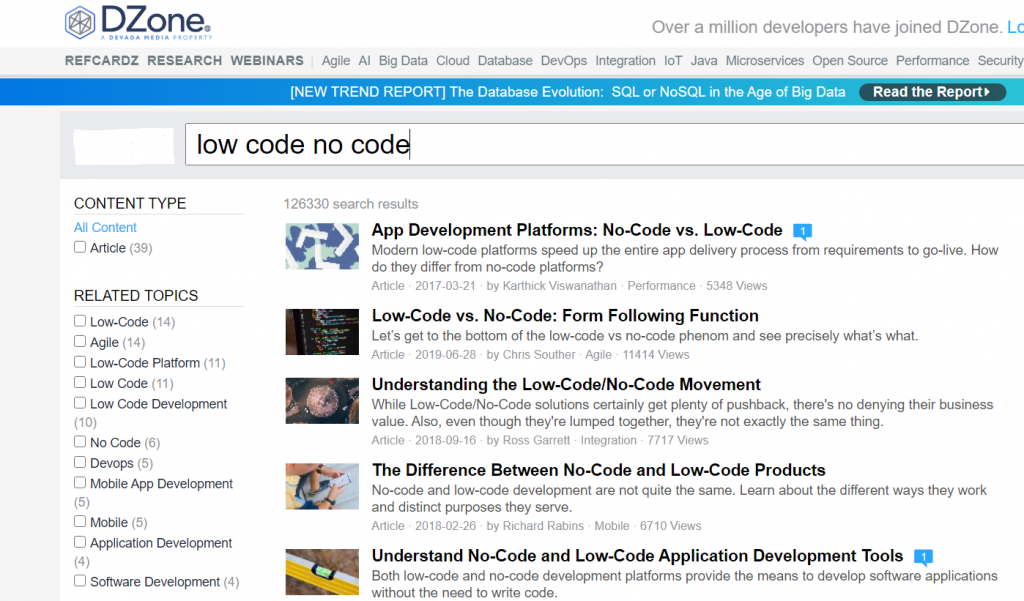 NoCode Tech
This isn't a regular blog but a curated directory of resources, tools & hacks for non-techs that is purely dedicated to no-code tools, hacks, and members sharing their experiences on building applications using no code.
No Code Tech is a must-read place where you can discover more than 200+ tools and skills used by entrepreneurs, designers, and employees around the world to create the software they need – without coding.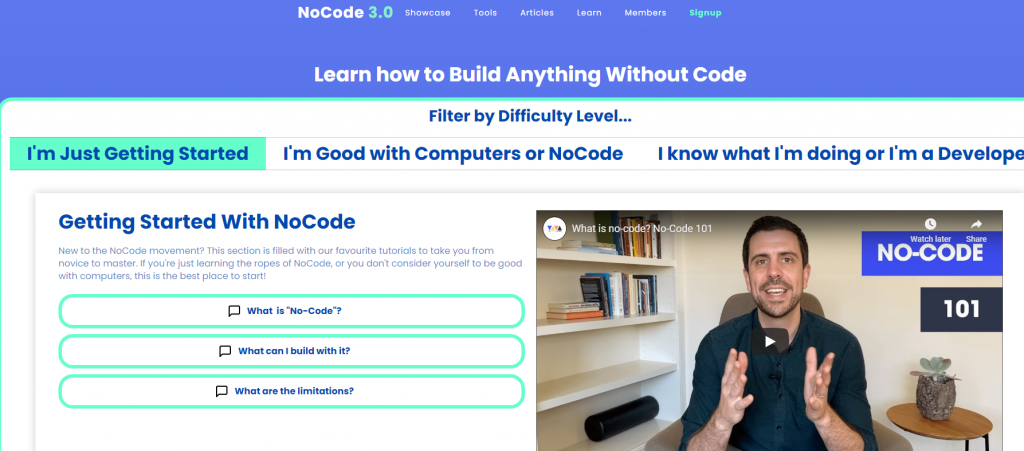 Makerpad
Makerpad is another valuable destination to learn, share, and work together to create software—without writing code. They provide best-in-class education paired with a supportive community and accountability.
Here you find detailed reviews, product demos, how-to guides of an extensive category of no-code tools. To Sum up, Makerpad is a complete educator in the no-code space. Thousands of professionals—working from startups to schools—can use it to learn how to build projects and automation without writing code.

Tigersheet
OK – obviously we eat our own food as well. Therefore, please forgive our little self-plug.
At Tigersheet, we aim to share our low code with no coding expertise with others. Either be through our product, support team interactions and since recently also through our own Low-Code No Code blog. The blog is well updated with news, informative articles on LCNC, latest trends, product updates, and what's buzzing in the field of software, technology, and automation.

blog – TigerSheet – Custom Software for Business
If you enjoyed this article, you might also find our blog useful.


IT
5 Big Challenges facing CIOs and IT leaders in Pandemic 2021

LCNC
The Ultimate Guide on How to Find a Low code/No code Platform for your Business

LCNC
5 Important Metrics to Measure the ROI of Low-Code

LCNC
8 Essential Factors of Low-code/No code Software


LCNC
The Best No-code Apps for Website Development

IT
Task Management App Vs. Work Execution Platform: What Do You Need and What's the Difference?

IT
Digital Transformation: 7 Important Questions for Your Organization

LCNC
7 Reasons Why Low code is the Ideal Solution for Business

IT
Top 10 Types of Software Every Business Needs-Infographic

General
The Best Airtable Alternatives to Look Out for in 2021 and Beyond