T
he Best No-code Apps for Website Development
According to estimates in this Forrester report, the global no-code business will grow to $ 21.2 billion by 2022.
Codeless platforms are a category of tools that level the playing field for everyone. Making it possible for freelance creators, artists, and entrepreneurs to build things they could only have dreamed of in the past.
The high cost of web development and the ever-greater need to be visible online has led to the creation of various tools for the rapid development of applications and websites. 
Being able to create your website, API, or mobile application without coding is an old promise. Today, this promise has become a reality thanks to the best no-code apps available on the market. In this article, we will define what characterizes these new no-code tools.
A new generation of website creation software: no code tools
The emergence of no-code tools
Developing traditional software is expensive, time-consuming, and requires ongoing maintenance. Projects often go over budget or experience delays for various reasons. For small businesses that work on tight budgets, this way of operating is simply unrealistic.
No code tools appeared as a solution, offering advantages of speed, affordability, and, above all, accessibility to the general public. Software like Wix, Jimdo, Shopify, Weebly, or Strikingly are no-code tools dedicated to website creation. 
Today, these players are no longer alone on the market: there are many no-code tools, each with a very specific objective.
Some characteristics of no-code website builder apps
Here are the main features associated with this new generation of website creation software:
Good momentum with growing market shares. Some – not all – older website builders like Weebly are losing ground. 

A very intuitive and visual interface (building the site in blocks)

Often very good templates. Integration of the latest trends in web design (minimalism design, etc.)

Interesting customization options

.

These new tools give you ultra-deep design control, which lets you control how your site looks down to the pixel. Webflow also allows you to create animated and visual interactions very easily to energize your site.

Functionality is often amazing

.

Bubble, for example, allows you to work in collaboration with up to 40 people on your sites and applications.

A (small) layer of artificial intelligence. Weblium, in particular, has an "AI Design Supervisor" which controls any punctuation errors, the size of your content, and visual consistency.

Design Responsive & Mobile Friendly
Zoom on 5 no-code tools to create a website
Webflow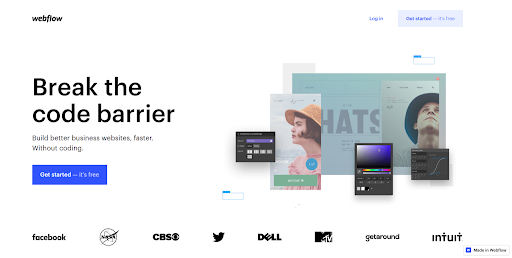 Webflow, founded by two brothers in 2013, is a somewhat special CMS. 
It allows you to create websites without deep code knowledge. But unlike other no-code tools on the market, Webflow is primarily aimed at web designers. The great strength of Webflow, in addition to its intuitive interface, is that it allows you to create sites with an ultra-personalized design.
Because of its great functional richness, particularly concerning the customization of the design, Webflow is perhaps not intended for "great beginners." The target of this CMS is web designers or, more generally, all people who want to create a website while having total control over design aspects – without being code aces.
The Webflow editing interface is a mix between a classic interface like Wix and Photoshop. We find the very intuitive side: the interface is WYSIWYG. You can modify any element of the content of your page by clicking on it with the mouse. But besides that, Webflow offers very advanced features for customizing styles, fonts, formats, colors, etc.
Webflow has been adopted to date by tens of thousands of users – demanding individuals, freelancers, web designers, agencies, startups. More than 500,000 sites have been created using this editor. Webflow counts among its customer's large accounts like Groupon, Hewlett-Packard, Pinterest, MTV, IBM.
Offers & Prices
If you can build a website for free, the lowest price to get it live is $ 12 per month under Webflow's "Basic" plan. This formula is suitable for simple sites that only need a few standard elements, such as image galleries, contact forms, or menus. The CMS plan focuses on blogging and content-driven sites, while the Business plan is, unsurprisingly, aimed at businesses looking to market and grow.
Webflow's e-commerce plans range from selling a few products (standard plan) to effective wholesale (Plus plan), marketing, and managing your products to a global audience (Advanced plan). Webflow also offers a business plan, which is available on a quote basis. This is where Webflow will help you build your site and support you throughout the process. It's a great service, but it's only really suitable if you're a large company.
Bubble.io started in 2012 in New York over a coffee between the co-founders Joshua Haas and Emmanuel Straschnov. Without outside investment and with the help of a few beta clients, the two men created Bubble in three years. From day one, they've been focused on building a business that delivers real value. Their goal is to build the best possible platform for their customers to build powerful web applications without writing code.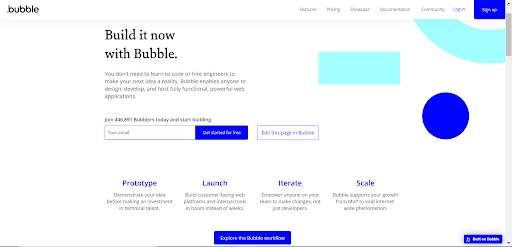 Today, Bubble has nearly 450,000 users and raised $ 6 million in 2019 to become the benchmark business creation platform. In the world of tools, no code Bubble is more than a simple product. She has created a strong community of builders and entrepreneurs who are united by the belief that everyone should have access to technology.
Therefore, a bubble is a tool for developing mobile and web applications without coding, without tedious HTML or CSS programming. The solution allows users to create and customize applications through a user-friendly interface using the technique of drag and drop. It makes coding obsolete and democratizes the creation of innovative applications. Bubble allows you to benefit from the following features:
Shared hosting

WYSIWYG Editor

Custom brand

Application models

Workflow

Data migration

Data synchronization

Data security

Customizations

HTML input
Offers & Prices
Bubble's price list is based on 4 offers, one of which is free. All are billed monthly as part of an annual subscription.
Hobby: Free.

Benefit from all the main functionalities of the platform with limitations in terms of personalization: domain and branding in particular. Storage is limited to 2GB. In our opinion a great way to experience Bubble.

Personal: $ 25 / month.

Suitable for a freelance activity, for example. 10GB maximum storage and dedicated e-mail support.

Professional: $ 115 / month.

Suitable for small business use. Increase the capacity of your server and up to 20GB of storage for 2 possible users.

Production: $ 475 / month.

Includes the ability to get 10 additional servers, two-factor authentication, and up to 15 users.
Adalo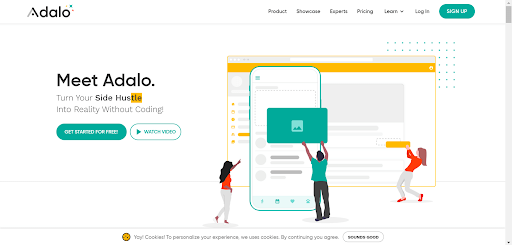 Adalo is a no-code tool that allows you to create websites and applications without having technical knowledge. Adalo is similar to Bubble and other no-code platforms in line with this new type of no-code tool. Its goal is to provide a platform to design and host websites and applications that include databases, workflow actions, and integrations. Adalo is compatible with Android and iOS, creating native mobile apps. This app builder tool makes the process fast, transparent, and cost-effective for creators. It allows users to build your websites and apps by simply dragging and dropping the specialized design components.
Adalo users are small and medium-sized businesses, freelancers, hobbyists, and startups. People interested in building a code-free mobile app or new to web development and developing their own app or site may be interested in Adalo. The tool automatically adds interactions and configures all databases without using any codes. If you already have an API, Adalo can integrate with it.
Adalo offers the following features:
Mobile development

Test management

Version control

Web development

Workflow management

Drag & Drop Builder

Application integrations

Manage integrations
Offers & Prices
Adalo's pricing plans start with a free plan, limiting you to 50 data lines per app and requiring you to publish with the Adalo brand on an Adalo domain.
The next level up is the Pro Plan, at $ 50 / month, which allows you to publish to the Apple and Google app stores, access outside API integrations, create a custom domain, and get 5 GB of data storage.
Users who wish to build their website in collaboration with multiple team members should use the Business Plan, at $ 200 / month, which gives you 4 additional "spots" in your team, 20 GB of storage, and a manager. dedicated account.
Weblium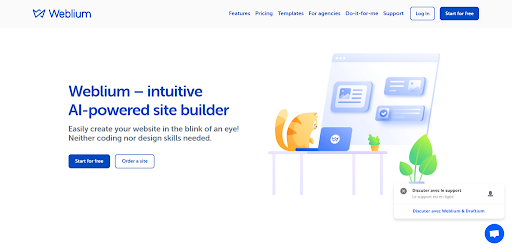 Weblium is an extremely easy-to-use, no-code website builder. The tool is designed to help people build quality websites that are mostly single pages. The platform is ideal for those looking for out-of-the-box models that work well on all types of devices. Additionally, Weblium can be a good solution for users who want to build and publish their sites from scratch.
The system also has an AI design supervisor to help you build a website using their blocks. Weblium offers several paid plans, although it does not offer an e-commerce module or improved integration capabilities, which is bad news for those who want to launch a complex digital store and manage their products online. When it comes to business portfolios, blogs, or small business websites, Weblium is a really good piece of software.
Offers & Prices
You have 3 main options:
The free plan allows you to test the main features as well as the Weblium builder.

The "Pro" plan costs $ 8.25 / month. Weblium will offer you a domain name for one year, and you can modify the code or have Google Analytics integration.

Finally, you have the "Landing Pro" package at the single price of $ 196. You will have access to the same features as with the Pro plan, without unlimited storage space and the free domain for the first year. It is still a very advantageous rate because it only has to be paid once.
WoCode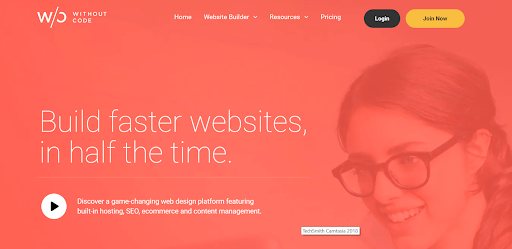 Wocode is an np code website builder software created by Muse-theme, a template editor for Adobe Muse. Adobe, having abandoned Muse in 2018, Muse-theme took the opportunity to launch its own site builder. As its name suggests – "Wocode" or "Without Code" – the software is one of the no-code tools offered on the market today.
The tool, therefore, relies on muse themes design skills with more than 150 templates available. As well as on the functional aspect to offer you an all-in-one platform allowing you to design your showcase and e-commerce sites. In terms of specific features, here is what you can expect from Wocode:
CMS edition by your customers.

Wocode allows you to give more or less limited access to your customers so that they can make changes on their own.

Pop-Ups.

Target visitors and collect leads using pop-ups and personalized notifications.

Integration of social networks.

Post comments on Facebook and other social platforms.

Site statistics.

 Analyze statistics about your visitors and how they interact with the website.
To enrich your site, you can use the following widgets:
Data:

Googles sheets

Videos:

Vimeo and Youtube

Calendar:

Google Calendar

Instagram
The sites designed using Wocode are hosted by AWS (Amazon Web Service).
Offers & Prices
WoCode offers 3 formulas. Note that you will have to add hosting costs to each of them.
Basic

: Free. Limited to 3 sites and the forum for support. However, you will benefit from unlimited storage capacity.

Professional

: $ 99 / year. An unlimited number of sites, e-mail support, and access to all the features of the CMS for the personalization of your sites.

Enterprise

: $ 499 / year. All the options of the previous plan plus chat support and a dedicated account manager.
You can also create your e-commerce site with WoCode: for $ 190 / year up to 100 products and $ 360 / year for an unlimited number of products.
Summary
Programmers and non-programmers rely on codeless development platforms to create software because of their efficiency. Consequently, you don't need coding skills to develop websites.
As we come to the end of this article, we hope you now have a better understanding of this ever-changing ecosystem and choose the best app for building your website.


IT
5 Big Challenges facing CIOs and IT leaders in Pandemic 2021

LCNC
The Ultimate Guide on How to Find a Low code/No code Platform for your Business

LCNC
5 Important Metrics to Measure the ROI of Low-Code

LCNC
8 Essential Factors of Low-code/No code Software


LCNC
The Best No-code Apps for Website Development

IT
Task Management App Vs. Work Execution Platform: What Do You Need and What's the Difference?

IT
Digital Transformation: 7 Important Questions for Your Organization

LCNC
7 Reasons Why Low code is the Ideal Solution for Business

IT
Top 10 Types of Software Every Business Needs-Infographic

General
The Best Airtable Alternatives to Look Out for in 2021 and Beyond