T
he 8 Best No-Code Platforms For Building Your App
Building applications for your business has become easier than ever with the introduction of low-code or no-code platforms.
Now, it is possible to create even more complex applications without spending a lot of money, waiting days or months, or employing multiple developers, all thanks to these technologies.
You don't need to be an expert in coding to build an app. Modern no-code platforms make sure you write little to no code and still produce the applications that drive your business forward.
In addition to building applications, no-code platforms offer workflow automation, help improve business processes and provide other capabilities to support your operations and help you grow.
Now, let's take a look at some of the best no-code platforms available on the market for small and medium-sized businesses, as promised!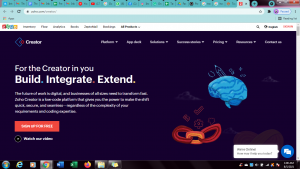 Zoho Creator is one of the most competent no-code platforms that helps you create applications quickly and extend and integrate their functionality seamlessly. 
It doesn't matter what level of coding experience you have or how complex your coding requirement is; Zoho Creator makes everything fast, easy, and secure.
It helps you transform your business by offering customized solutions so you can build theapplications you conceptualized. You can build cross-platform applications ranging from minimalist call logs to heavy and complex ERPs capable of integrating with your current processes.
Accelerate your application development process with its rich and intuitive code editors, visual builders, pre-designed templates, and more. On top of that, you can easily configure and automate workflows in your applications with simple steps and iterations.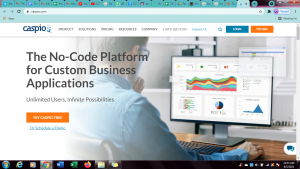 Caspian is another great option for building cloud applications without coding. This leading no-code application development platform is well suited for building scalable, reliable and secure online database applications.
The platform enables more than 15 clients in more than 150 countries, from government agencies and global corporations to small businesses, universities and non-profit organizations. Caspio can help you plan your database layout, user permissions, workflows, and more.
Tigersheet is a new generation no-code platform that serves as a middle way between spreadsheets and business-specific software
It offers a way to everyone, not just developers to build custom business applications with everything tailored as per your business needs. The fact that millions of people out there use spreadsheets to manage their data is a good start for us.  So, we make the experience of application development a lot like using spreadsheets, something everyone knows.
Tigersheet is a no-code platform equally capable of handling all your business challenges effectively. A unified surface with infinite room to grow your ideas, from tables to CRM tracker.
With Tigersheet, your team can:
Track orders, projects, invoices, payments, employees, expenses, office assets, employee leaves, employee advances, and more.

Attach files and documents to rows.

Hide certain fields or rows from users easily with the powerful roles and permission system.

Set reminders for important dates like a deadline, a follow-up date, etc.

Access data from your Tigersheet's mobile app.

Create reports, have different views to visualize your data better – like Kanban, timeline, etc.

Use Triggers to create workflows, send email notifications, and more. Now no need to resort to custom application development to automate your business.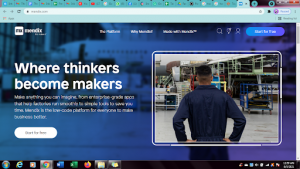 Create applications of your imagination from simple, time-saving tools to enterprise-grade applications that help businesses run smoothly with the help of Mendix.
It is a no-code platform that anyone can use to improve their business by delivering quality applications without involving code complexities. This application development platform helps you build impact-driven applications to deploy sooner and make them successful faster.
You can build applications to serve various industries, including SAP supply chain processes, high-value asset field service, digital insurance solutions, plant equipment maintenance, delivery management, analytics and reporting, logistics tracking, artificial intelligence, smart banking, facial recognition, etc. more.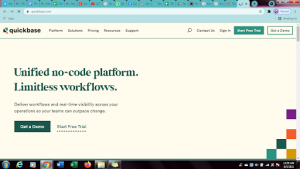 Unleash the full potential of your business operations by incorporating Quickbase into your organization and create high-quality, results-based applications that can connect ideas, information, and people everywhere.
This application development platform helps you bring your business, IT teams, and developers together to innovate and build secure, sustainable, and secure applications. It also helps speed up your business processes to deliver quality applications with fast response times.
Quickbase frees you from legacy systems and gives you a set of built-in capabilities built to work together to enhance your applications without taking on the high cost of development, deployment, and maintenance in traditional ways.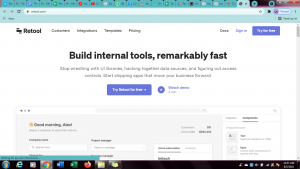 Building internal apps and tools becomes remarkably fast with Retool. It saves you from struggling with user interface libraries, searching for access controls, and combining data sources. Instead, seamlessly build apps and ship them faster to speed up your business.
Retool provides you with solid building blocks like tables, charts, lists, maps, wizards, forms, and more essentials for building in-house tools. As a result, it is easy for you to work on your user interface and present them sooner without searching for libraries.
You can assemble your applications in just 30 seconds with the help of drag and drop of your pre-built components. Additionally, you can connect to major databases using a REST API, gRPC, or GraphQL.
Retool allows you to work with your data sources seamlessly in one application. One need not mention that they are the only person who stores your data. When a query is run, the Retool backend sends this request directly to your backend. This means that they never store your data.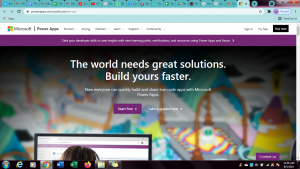 Building low-code apps and sharing them is no longer challenging if you have Microsoft Power Apps. 
It helps you quickly build applications that can solve challenges while revamping processes to increase business agility.
They offer pre-designed templates and a drag-and-drop feature so you can quickly start building applications. As a result, you can deploy immediately and then make quick improvements.
Power Apps gives your team the power of advanced features and functionality, including pre-built artificial intelligence components. 
Additionally, you can provide your developers with the essential tools they need to seamlessly extend application capabilities through custom connectors and Azure Functions to on-premises or proprietary systems.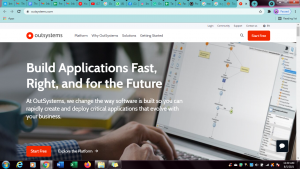 OutSystems is transforming software development and helping you quickly create and deploy complex applications that can evolve with you. It enables you to create blazing fast model-driven development using the cloud, DevOps, and AI.
With OutSystems, it's easy to manage application backlog, keep up with changing business needs, and deliver cloud applications to drive innovation. In addition, they offer many integrated tools and automation services to produce secure, scalable, easy-to-manage, and resilient applications.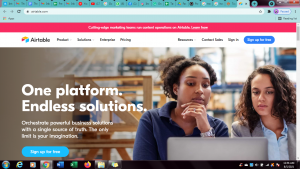 Create powerful applications by combining your imagination with the power of Air Table . It will help you get started quickly by offering the power of an impressive database with the familiarity of spreadsheets.
Airtable is trusted by more than 200 organizations that have developed applications on Airtable and modernized their business workflows while delivering effective results. It enables you to create solutions with greater capabilities and sophistication.
Conclusion
Let's hope this information on no-code development platforms helps you understand these concepts and choose a platform based on your business requirements. Wishing you success in building your next product.
Don't have the time to do IT on your own? Contact us and we'll take care of the rest.


IT
5 Big Challenges facing CIOs and IT leaders in Pandemic 2021

LCNC
The Ultimate Guide on How to Find a Low code/No code Platform for your Business

LCNC
5 Important Metrics to Measure the ROI of Low-Code

LCNC
8 Essential Factors of Low-code/No code Software


LCNC
The Best No-code Apps for Website Development

IT
Task Management App Vs. Work Execution Platform: What Do You Need and What's the Difference?

IT
Digital Transformation: 7 Important Questions for Your Organization

LCNC
7 Reasons Why Low code is the Ideal Solution for Business

IT
Top 10 Types of Software Every Business Needs-Infographic

General
The Best Airtable Alternatives to Look Out for in 2021 and Beyond