The word 'workflow' sounds familiar? Right?
You might have heard it in your workplace conversations, usually in conjunction with automation and business processes. But, what is workflow exactly?
Workflows are the day to day motions that make up your job. You might follow them routinely, you might document them methodically, or you might be somewhere in between. In any case, workflows make up a crucial part of your workflow life. So, let's try to delve deeper and understand what workflow is all about.
Understanding the basics: What is a workflow and how it is useful?
A workflow can be ideally defined as a sequence of related processes, actions, or tasks undertaken to complete a piece of work. For example, A writer's workflow can look like this:
ResearchàOutlineàWrite-àEditàOptimizeàPublish
Every business whether they are aware of it or not uses workflows. Anytime you have performed a sequence of steps to complete a piece of work, you have used a workflow. But, by outlining and structuring your workflows, you mitigate risks and unlock a host of benefits.
The Role of Automation in your Workflows
There is one big benefit of mapping your workflows: they let your opportunities to automate. The word workflow is used routinely in conjunction with automation, that's because two are closely related in conjunction. So, what is workflow automation software?
Automation software allows you to make certain processes happen automatically. This means that automation will handle some of the steps in your workflows for you. In other words, you can augment your workflows with automation. This allows you to free your team from time-consuming, repetitive work that comes as part of a workflow.
In some cases, you can build workflows with your automation tool. Alongside automating individual processes, you can string them together to automate repetitive workflows. (But only those that don't need human intervention.)
Automation can also help your workflows run smoother by acting as an IT bridging tool. This means that automation software can bridge processes across your tools and departments. So, if a workflow calls for work to cross departments or swap tools, the automation tool can join those dots.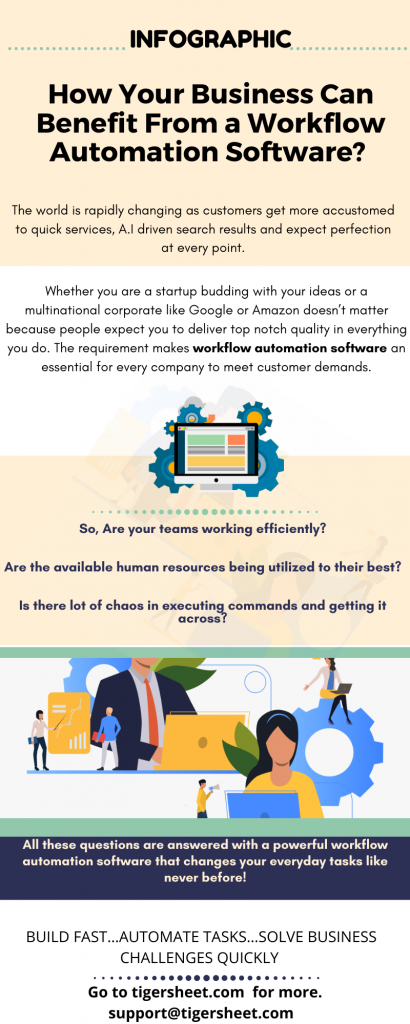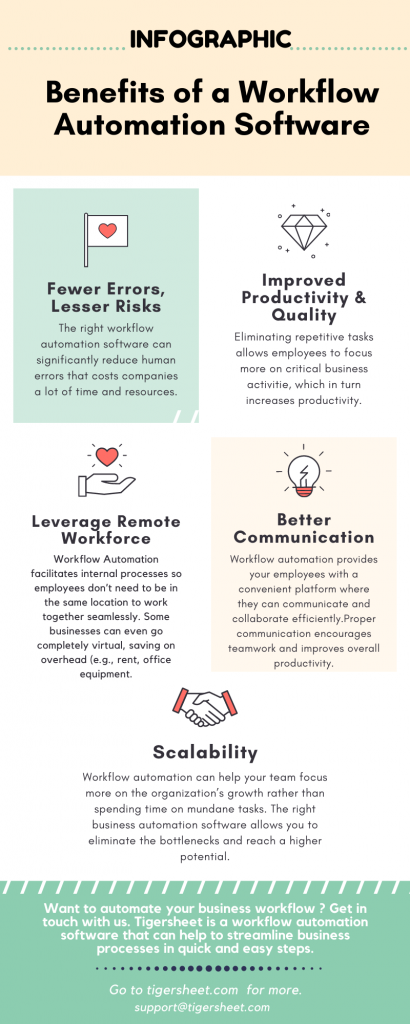 Benefits of Workflow Automation Software
An automated workflow benefits your business in numerous ways. Here are some of the most important benefits of business workflow automation:
Better Insight into Business Processes
Mapping your processes in workflow allows you to get a more clear, consistent, and top-level view of your business.
One of the biggest reasons why workflow automation is important is because it gives you greater insight into your processes. From then on, you can use the said insights to better your workflows, and improve the bottom-line of your business: get more profits.
Improved Employee Productivity and Quality of Service
Repetitive tasks are the main reason why employees feel unmotivated. The mundane tasks not only take up time, but they also hurt the overall productivity of your employees.
Eliminating repetitive tasks allows your employees to focus on more critical business activities. It can enhance the morale of employees and improves creativity.
Businesses that have automated workflows for repetitive and manual tasks have successfully increased employee productivity by 12% to 15%.
Improved Teamwork and Communication
Workflow automation provides employees with a convenient platform where they can communicate and collaborate efficiently.
Proper communication encourages teamwork and improves overall productivity.
Most of the workflow automation systems have internal communication platforms that are designed to connect different departments and teams within your organization. It will notify individual groups when the specific phase of the project is completed, so the team responsible for the next stage can step in.
Actionable Data and Scalability
Workflow automation can help teams focus more on the organization's growth rather than spending time on mundane tasks. The right business automation software allows you to eliminate the bottlenecks and reach a higher potential.
In addition, workflow automation software provides you with valuable insights and actionable data. This data helps you identify employee performance, overall business productivity, and the problem areas.
Improved task management and resource allocation can increase individual team performance and overall productivity of your organization.
Why Is Tigersheet Best Value for Your Business?
In addition to offering all the above-mentioned features, Tigersheet is known for its no-code environment, which offers a highly flexible and adaptable business process management, and application that users at every level can refine.
At Tigersheet, we understand that organizations are constantly evolving and growing, and their processes should, too. Being able to make processes match the reality of business operations shouldn't take countless hours, expert developer assistance, and multi-phased functionality testing.
With a solution like Tigersheet, end users can be empowered to creating and refining their own workflows without prior coding knowledge. The intuitive drag and drop interface, web forms, one-click triggers, interactive reporting tools make business automation a much-needed breeze and everything happens in a no-code environment. Anything more than this is a waste of your staff's time and your organization's money.
Take the Next Step
Keeping your business ahead of the curve takes technology that is adaptable, innovative, and easy to use. Tigersheet takes the frustration out of creating, monitoring, and improving your business processes by empowering end-users while removing coding hassles. Want to see and try Tigersheet for yourself? Sign up for a free trial today!