We are incredibly proud to share the news that 'Tigersheet has bagged the '2019 Rising Star Software' award from Software Suggest, a popular B2B product and software review platform. This recognition is given annually to products that provide outstanding solutions for B2B companies across a number of categories, including the leaders in the Low Code/No Code (LCNC) market.
Tigersheet is a no-code platform to build custom applications for enterprises at lightning speed and drastically reduced cost. Tigersheet gives you the simplicity and flexibility of spreadsheets with the power and advanced feature set of complex applications (such as access control, notifications, and alerts, report generation) in a user-friendly platform that you can use, to create any custom business application.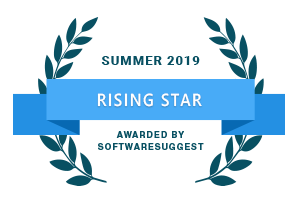 In evaluating Tigersheet for the 2019 Rising Star Software Award, Software Suggest's team of software experts examined and compared Tigersheet against its competitors in various scenarios. Some of the specific criteria that their review team took into account were:
Tigersheet's range of "key No-code functionalities", combined with a simple, highly responsive and intitutive interface.
The collaborative nature of Tigersheet's application development capabilities
The support with third-party integrations that lets users connect their custom application to a large ecosystem of automation tools
Its flawless report generation capabilities, including grouping items, generating Kanban boards, pivot tables and charts.
The capacity to allow role based access control to make certain that only particular users can launch certain tasks and perform specific actions.
Its ability to create trigger based workflows enabling users to skip over redundant workflows and automatically complete tasks whenever an event is caused to occur.
The availability of one on one guidance and business consulting service in helping enterprises customise the software according to their needs
We are delighted to have a shiny new award to put on the Tigersheet mantle, but most importantly, the 2019's Rising Star Software Award is another confirmation that our software is providing the best value to enterprises in meeting their custom needs.
Please visit SoftwareSuggest.com to post your own review of Tigersheet and thanks for your support through this amazing year. We hope to win many more awards in future, as the team is constantly working to improve user experience by adding new features to Tigersheet. We can't wait to show you what's in store for in the coming year!
Make sure to follow Tigersheet on our social media channels Twitter and LinkedIn to get notifications on all updates.