Heraclitus once said, 'The only constant in life is changing'.
We all face changes every day—whether it's a simple change in weather or massive disruption in the ways we consume technology. A phenomenal change is brewing within the software industry too similar to the disruption we've seen hit other industries like health care and manufacturing.
It only seems like yesterday when Google Docs took the world by storm through free cloud-based software, compelling Microsoft to change its Office 365 business model. And it's no surprise that Cloud-based software has become a benchmark today!
2020 has paved the way for us to witness another software industry jolt. But, unlike other transformations that destroy existing markets, low-code and no-code software promises to make the software even more ubiquitous than it is today.
Low Code No Code platforms have been rapidly growing in importance over the last few years, particularly among small and midsized businesses (SMB's). These have enabled programmers and non-programmers to build application software by using graphical user interfaces and configuration rather than conventional computer coding.
With significant half of 2020 ahead of us, let's take a look at some of the biggest low-code trends that are shaping the industry!
Big Trends. Bigger Challenges and Biggest opportunities
Gartner, a multinational IT, and research firm that offers an in-depth look at low code's impact on business predicts "that low-code application platforms will account for 65 percent of all app development by 2024." This directly implies that the majority of apps created in 2024 will be developed using platforms and tools that provide turnkey ways to program.
What Will Be the Implications?
Enterprise software providers like Oracle and SAP Oracle will need to continue to simplify their solutions to allow for greater customization faster. This also means we will encounter an entirely new set of software infrastructure platforms in the coming years oriented to enabling faster development.
As a result of this, gone will be the days of tolerating yearlong enterprise software customizations or hiring a development house to program your application entirely from scratch.
In terms of revenue, Forrester says the low-code market will top $21 billion in spending by 2022. That's a huge number–and opportunity.
Check out our infographic on low-code trends to see how the industry is growing and its popularity among decision-makers, business professionals, and software developers!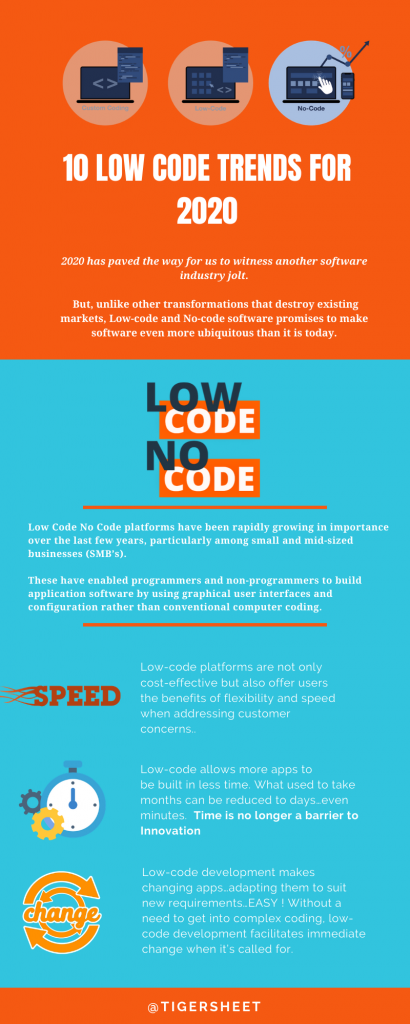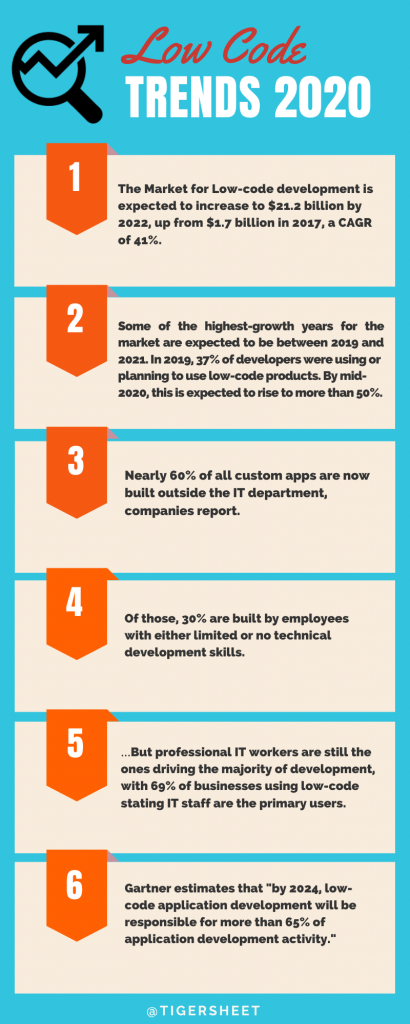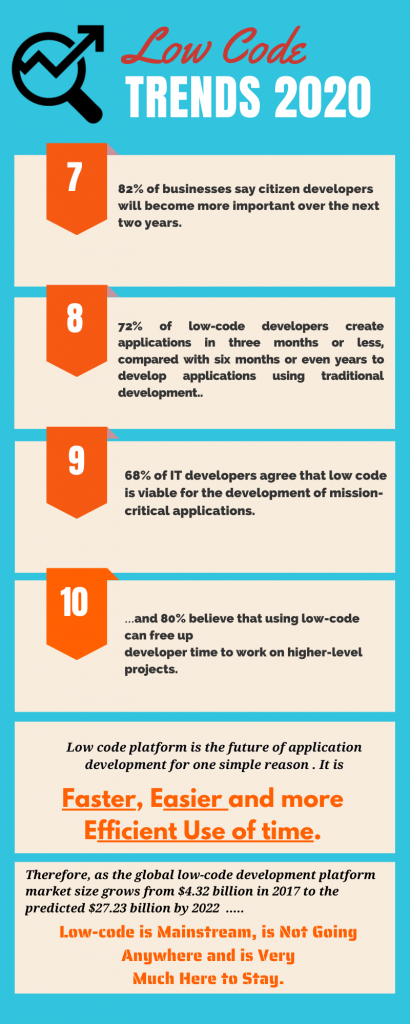 Infographic Transcript: Low Code Trends 2020
Forrester expects the market for low-code development platforms to increase to $21.2 billion by 2022, up from $1.7 billion in 2017, a CAGR of 41%.
Some of the highest-growth years for the market are expected to be between 2019 and 2021. In 2019, 37% of developers were using or planning to use low-code products. By mid-2020, this is expected to rise to more than 50%.
Nearly 60% of all custom apps are now built outside the IT department, companies report.
Of those, 30% are built by employees with either limited or no technical development skills.
…but professional IT workers are still the ones driving the majority of development, with 69% of businesses using low-code stating IT staff are the primary users.
Gartner estimates that "by 2024, low-code application development will be responsible for more than 65% of application development activity."
82% of businesses say citizen developers will become more important over the next two years.
72% of low-code developers create applications in three months or less, compared with six months or even years to develop applications using traditional development.
68% of IT developers agree that low-code is viable for the development of mission-critical applications.
…and 80% believe that using low-code can free up developer time to work on higher-level projects.
Citation:
Forbes Blog[Online], What You Need to Know About the Low Code Market By Tom Taulli, February 17, 2019, Accessed From https://www.forbes.com/sites/tomtaulli/2019/02/17/what-you-need-to-know-about-the-low-code-market
ImpactMyBiz.com[Blog Post], Infographic: 10 Low Code Trends 2020, February 14,2020, Accessed From
https://www.impactmybiz.com/blog/blog-low-code-trends-2020
TechRepublic Article[Online], https://www.techrepublic.com/article/report-60-of-apps-are-built-outside-of-it-and-thats-a-good-thing/, by Alison DeNisco Rayome in Developer on August 30, 2017, 8:38 AM PST
Pulpstream, Weblog [Online], Available from http://www.pulpstream.com/case-studies-index,
PNMSoft Blog, Weblog [Online], Accessed From http://www.pnmsoft.com/emergence-everyday-developer/,May 17, 2017
White Paper, Progress, Low-Code Platforms: What Developers Think and Why, 2018
White Paper, OpenText, how to deliver on the low-code promise: Easy, engaging and smart enterprise applications, 2017
Closing Words
Low code platform is the future of application development for one simple reason- It is a faster, easier, and more efficient use of time.
It doesn't matter whether developers are on-board with this change or not- it is inevitable because it's the path of least resistance, and as the demand for low code platforms continues to grow, developers will find themselves rising to meet it.
The old way of doing things will not completely perish, but people and companies who rely on it will be made increasingly redundant as low code programmers outmaneuver them. Those who survive are likely to be those who at least partially adopt the low code methodology to form a hybrid. Otherwise, they'll be too slow, too cumbersome and too costly. Therefore, as the global low-code development platform market size grows from $4.32 billion in 2017 to the predicted $27.23 billion by 2022, low-code is mainstream, is not going anywhere, and is very much here to stay.