S
hadow IT: The Risks and Benefits Explained
Ensuring information security is a constant challenge for companies. We are in the Digital Age, and the cloud computing phenomena have generated considerable changes in business models and the way we work. Despite the numerous benefits, it is necessary to be aware of the dangers that the uncontrolled use of these tools can bring to your company.
User-friendly cloud services such as Dropbox and Google Drive are increasingly present, and they often end up being used within the company as well, even if the IT department has not approved their use. This practice is known as Shadow IT. So, what to wait for? Let's explore the world of shadow IT and know about its risks and advantages to the companies.
What is Shadow IT?
Synonymous with invisible IT, Shadow IT refers to devices, software, and services outside the IT department's control and does not have explicit organizational approval.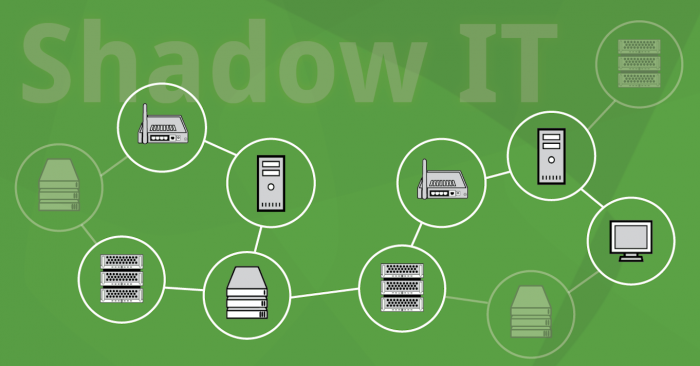 Shadow IT happens when a person decides to use a Cloud-based service without the company's knowledge. For example, applications for managing tasks, schedules, and projects help the professional in the day-to-day work, which was not previously or formally approved. And this can lead to problems, as it opens the company to unwanted or unplanned risks.
Given a reality in which the infrastructure cannot fully meet the demands of the most diverse sectors, Shadow IT becomes an escape valve for being an instrument that offers alternative solutions using software in the cloud. Furthermore, the poor management of multiple cloud providers can cause shadow IT due to management failures.
Prominent risks of Shadow IT
Leakage of sensitive information
The objective of IT management is to provide a technological environment that facilitates the work of employees and the achievement of organizational goals. It is a complex assignment that involves managing human resources, computerized systems, expensive equipment, and sensitive content.
Thus, the practice of Shadow IT can be very harmful since it is not known the origin of programs improperly installed on a user's computer. These suspicious applications may contain malware capable of accessing machines and leaking sensitive data. An incident of information leakage would be very damaging to your company's reputation, wouldn't it?
Noise in internal communication
Good internal communication between departments is essential for everyone to be able to perform their duties. The innovation in enterprises should cherish the excellent flow of information between stakeholders. Therefore, IT technicians should be called whenever necessary to install any program on a user's machine. In this way, technology managers can identify which applications are installed on the company's computers and control these technologies.
Installation of a program without the authorization of the IT department can lead to management difficulty. This in turn will lead to IT technicians not being able to identify problems on a computer correctly. This situation can generate a lot of strain on communication with users. Such a scenario can strengthen an informal Shadow IT culture and create more problems in the future. As a result, many internal issues can be improperly exposed in social networks and instant messaging applications.
Failures in internal controls
Internal controls are central to the technical and final activities of an organization. This is a joint effort recommended by good quality assurance practices. The culture of installing programs on computers without authorization from the IT area can increase the risks of undue exposure to your business. In addition, it creates difficulty in the periodic maintenance of machines with unauthorized applications.
Encouraging home IT solutions
The more technical people call home IT solutions a gambiarra. This is a classic example of Shadow IT very much embedded in the culture of some companies. It is considered a serious threat to information security, as IT managers and technicians often do not know these alternative programs. This opens up loopholes for criminals and even malicious insiders.
Benefits of calling Shadow IT
Rather than creating hindrances, some of the more savvy CIOs now accept and even encourage the clandestine use of IT. They take advantage of it to redefine the role of the IT team.
Despite the risks, there are several benefits to Shadow IT if managed correctly. If they are to be profited from, they must first come to light. Here are four ways that Shadow IT can contribute to a business:
Allow employees to create their solutions
Application development has always been a problem for many businesses. This is one of the reasons users are turning to Shadow IT. Tired of waiting for new applications from IT, they decide to take action. This is how they find tools that meet their needs and let them build their applications.
When managed correctly, the IT department can provide end-users with the tools they need to create their solutions. This allows IT to have control over user information and access and let them work without having to make constant requests.
Reduces IT department workload
In most companies, the IT department is overwhelmed. They keep the technology running, they support the business, and they are constantly solving problems. Creating new solutions for users only adds to their workload.
By bringing IT into the Shadows, end users have access to various approved tools and applications. This gives the department a breathing space and allows it to focus on more critical issues.
Provide solutions aligned with business needs
In addition to the problem of having to wait for solutions, there is another pervasive problem. When users request IT solutions, details are often overlooked. For this reason, the final product is not really what was ordered.
One of the benefits of Shadow IT is that there is no such hiccup, as the risk of communication failure is eliminated. When users are looking for their solutions, they won't stop until they find the ones that best fit their goals.
Remove obstacles and improve productivity.
Employees turn to Shadow IT when they don't get the solutions they need or break the rules imposed by the business. In many cases, the IT department is seen as an obstacle rather than an ally. Strict policies make it difficult to achieve something.
By embracing IT in the shadows, employees can be given the tools they require for their daily tasks, preventing them from spending more time searching for solutions instead of working.
How do platforms like Tigersheet counter shadow IT concerns?
No-code/low-code platforms like Tigersheet give users the ability not just to create custom workflows and databases for their needs—its visual programming interface means they can be built, maintained, and modified in real-time as the user needs. 
Which means no waiting on development. Changes happen as soon as they're needed.
Such immediacy, combined with the platform's sheer flexibility, eliminates the need for individuals to seek out new software from other providers. They can simply make what they want themselves. Even better, what they make doesn't need to be connected to any of their databases via REST APIs or other tools. It all rests in the same ecosystem as their other workflows, meaning users don't fragment their data or database to get the workflows they need.
Conclusion
While it is impossible to eliminate Shadow IT for good in enterprises, it has become essential for IT departments to distinguish between good Shadow IT and bad. The goal is to find a happy medium to allow employees to use applications that suit their work while maintaining data control by the IT department to reduce risks.



IT
5 Big Challenges facing CIOs and IT leaders in Pandemic 2021

LCNC
The Ultimate Guide on How to Find a Low code/No code Platform for your Business

LCNC
5 Important Metrics to Measure the ROI of Low-Code

LCNC
8 Essential Factors of Low-code/No code Software


LCNC
The Best No-code Apps for Website Development

IT
Task Management App Vs. Work Execution Platform: What Do You Need and What's the Difference?

IT
Digital Transformation: 7 Important Questions for Your Organization

LCNC
7 Reasons Why Low code is the Ideal Solution for Business

IT
Top 10 Types of Software Every Business Needs-Infographic

General
The Best Airtable Alternatives to Look Out for in 2021 and Beyond