N
ow You Can Send Bulk Email Easily and Run Email Campaign Using Mail Merge in Tigersheet!
Anyone who has access to an email address would probably know how popular mass emails and newsletters have become today. The benefits of sending out bulk emails are fairly self-explanatory: you can customize email templates to your marketing message and then send it out to a huge number of people in a short amount of time, for free (or very inexpensively). From a value standpoint, that is tough to beat.
On the contrary, if you opt to send a direct printed mail, go for an ad in a publication or use any other method of traditional advertising, then you know how expensive it can be. With the advent of smartphones that enable people to check their email from anywhere, mass mail has given marketers a great power: direct access to their customers' pockets.
Here at Tigersheet, we do acknowledge and realize that bulk emails can have a great impact on many businesses. In fact, that's why we have our own bulk email feature called Mail Merge using which users can send bulk emails and run email marketing campaigns
Step by Step Guide: Send Bulk Emails Using Mail Merge
1.To begin sending out bulk emails using Mail Merge, first filter the records to whom the email needs to be sent.
2. Select all the records by clicking the checkbox next to each record. A mail merge option will be visible on the top. Click on this button.

Configuration Options:
Send Mail:
From field – Connect to your email account. You can connect your email address – Gmail / Google Apps / your own SMTP account. Once you have successfully added your email address, you can also choose which user groups this email address can be shared.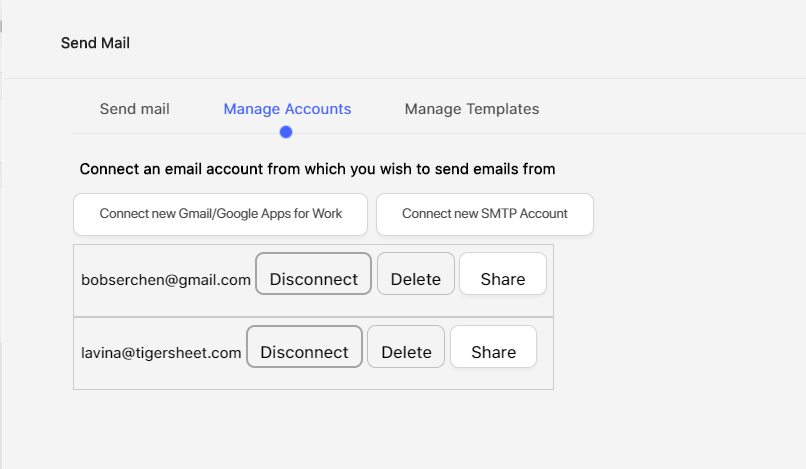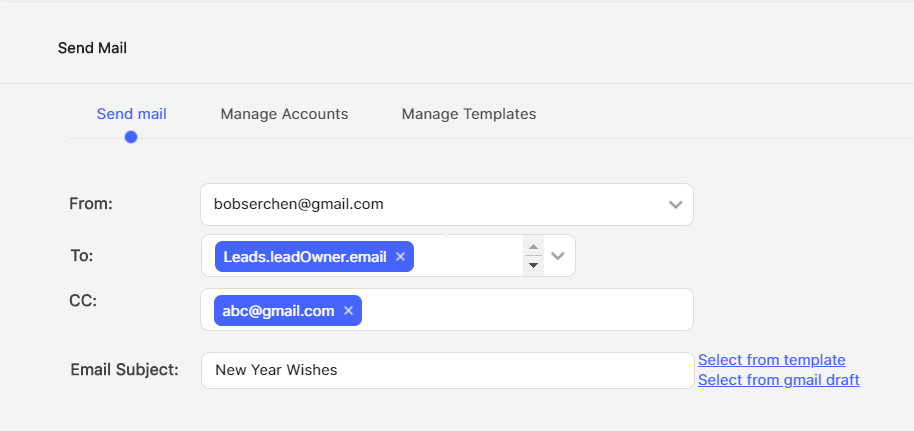 To field: To field will display the fields which have email address fields setup. E.g. – Employees, Clients, Prospects.
CC: You can add any other email address directly here. This email address need not be associated with the users of the current sheet.
Subject Line: Enter the subject line and create the template.
Body: You can customize the template by using variables captured in Tigersheet. E.g. – Dear <student name> using Insert Variable dropdown.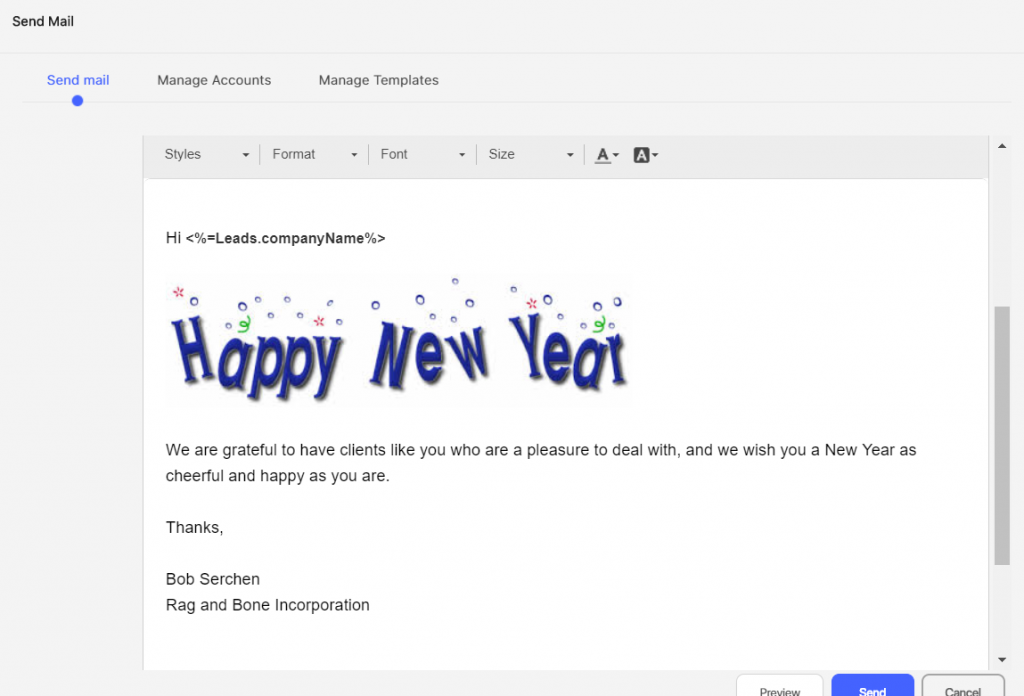 You can also choose from an existing template created and saved in Tigersheet earlier.
You can create the template in the Draft folder of your email account and access that template from here. If you select from the Gmail draft, the dropdown will display the Drafts emails subject line. You can choose one and the Template Body will display the Draft email's body.
You can click on Source and draft the mail in HTML.
Preview: You can preview the template. If you have not entered From email address, Preview will not be displayed. Preview will be displayed for each recipient.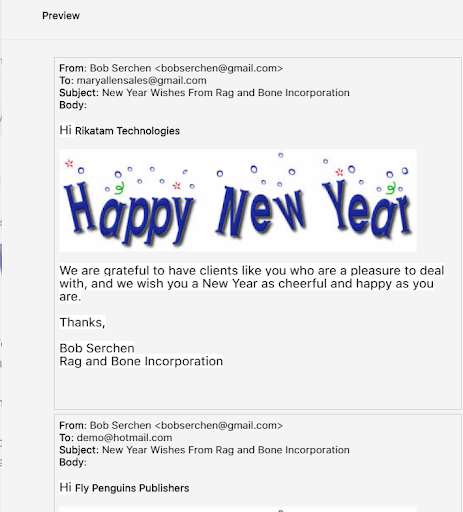 Schedule later: You can schedule to send this mailer at a later date and time.
Save Template: You can save this template in case you will be reusing it in the future to run more campaigns.
Campaign Name: You can add a Campaign name for this mailer for tracking the number of emails sent, Read / Unread status and Number of times it was read.
Manage Accounts
You can view the email address connected.
You can choose to delete or disconnect or reconnect these accounts.
You can also specify which user roles should be permissions to send emails from this email address in Tigersheet.
Manage Templates
You can see different templates saved earlier.
You can delete the template.
You can choose to pick this template for running the current mailer.
Video Tutorial- Send Bulk Emails Using Mail Merge in Tigersheet
Still facing issues with bulk emails. There is no need to worry, here's an interactive screencast that will demonstrate the entire process through which you can send out bulk emails and run email campaigns using Mail Merge in Tigersheet.
Still facing issues with bulk emails. There is no need to worry, here's an interactive screencast that will demonstrate the entire process through which you can send out bulk emails and run email campaigns using Mail Merge in Tigersheet.Now, you can go ahead and carry out your bulk email campaigns by signing up with Tigersheet and witness how easy it is to reach all your customers in a breeze! Try it Today!


General
5 Tech Upgrades Your Business Needs in 2021 and Beyond

IT
Shadow IT: The Risks and Benefits Explained

General
How to Create Web Forms That Convert Visitors to Leads

LCNC
Top 5 benefits of using No-code for Workflow Automation


LCNC
Top No Code Experts & Influencers You Must Follow on LinkedIn and Twitter

Product
Tigersheet Wins 2021 Rising Star and Budget-Friendly Software Award at Software Suggest Awards

General
Data Silos: What They Are and How to Get Rid of Them

General
6 Best Business Process Management Podcasts You Must Listen To

General
Managing Your Work in Spreadsheet Is a Pain? Use Tigersheet, not spreadsheets to track and automate your Business.

General
What is Citizen Development & 5 Reasons to Embrace Citizen Development at Work