N
ew to Tigersheet? Worry Not! 5 tips to take you from novice to advanced user( Part-1)
Are you new to using Tigersheet and a fan of getting work done more efficiently?
Do you want to add more value to your company? Do you and your team want to achieve better results, faster?
As a new user of Tigersheet, I've quickly become familiar with the basics of Tigersheet and know it can help me accomplish all of the above. Now, I'm ready to dive a little deeper and enhance my knowledge of the platform to unlock even more capabilities that help me collaborate with my team and stakeholders, gain better visibility into projects and processes, and discover important information more
I searched through our library of resources (so you don't have to) and discovered these five tips to help you take your Tigersheet knowledge to the next level:
Use notifications and schedule automatic reminders to keep collaborators informed
For every update, your team receives notifications through email. Onscreen reminders are also available for them to keep up with happenings whenever they are on the Tigersheet interface.
You can even customize in settings and update your teams to receive mobile push and email notifications. These Notification are quite fruitful and they allow you to see and quickly act on other items — such as update requests, approval requests, and notifications — as you work in Tigersheet.
You can set up and customize notification rules (triggers), and save time and work faster with automated workflows. With notifications, you can even stay informed about who's making changes in your sheet.
Keep teams and stakeholders updated with reports
Creating reports from data stored is generally a tedious and labor-intensive job. The good news is that with Tigersheet in place, you don't have to worry about this!
Tigersheet offers a wide variety of powerful reporting options such as Standard Views, Charts, Pivot Tables, Kanban Boards, Grouping Items and Filtered Views. This enables you to easily analyze your data and derive great insights. The intuitive drag and drop interface further make it super easy to construct the required reports in a matter of a few minutes!
With a handy Report Builder, you simply follow a few prompts to build and customize a report.
Bonus tip: If you publish a report, the people you share it with can see the information without being shared with the underlying sheets, which can be helpful if you have data in the sheet(s) that shouldn't be, or doesn't need to be, shared.

Filters help get to relevant information in a sheet
Filtering in sheets might be the most useful feature you will discover as you embark on a journey with Tigersheet (of course there are many more!). If you're one of those individuals who gets bogged down with a lot of data and is working in a sheet that has hundreds of rows and you're overwhelmed by information, consider setting up a filter or two.
For one of the sheets you need to reference, for example, you only care about the projects assigned to you. So, create a filter to show only those projects where you are listed as the owner, so instead of 157 rows, you'll see a quarter of them. There are far more uses for filters; don't be shy about trying them.
Bonus tip: Sorting and filtering are two different features, so be sure to learn the differences.
Got A Lot of Data in a Spreadsheet? Import from Excel to get started without losing anything!
By the time you discovered Tigersheet, you'd probably already made an Excel sheet or two (thousand). Perhaps you painstakingly copied and pasted all those spreadsheets into Tigersheet. Or, maybe — faced with the inescapable drill through Microsoft Excel — you left it alone.
We understand your pain.
If you have data housed in Excel spreadsheets, then you can benefit from Tigersheet's importing capability. This allows you to bring your Excel record to the platform and create custom applications using them.
Don't Know How to Use Import? Head on the guide here: https://tigersheet.com/blog/feature-import-excel-data-to-tigersheet/
Don't forget about YouTube videos!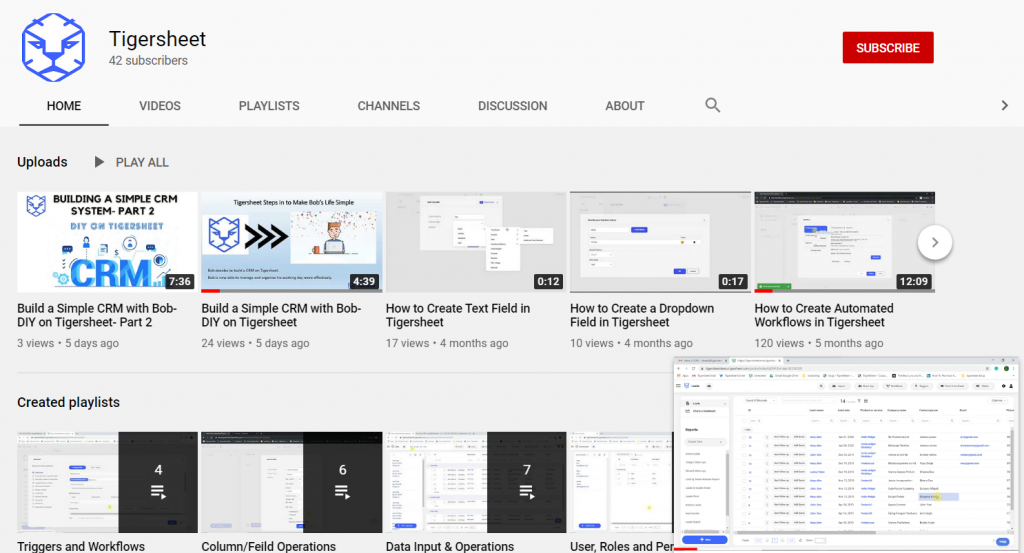 Even some of our most proficient customers find our YouTube tutorial videos helpful. And don't forget about one of our best resources, the Tigersheet Knowledge Base (Help Centre). You can simply have these sites bookmarked because I visit them almost daily to find the answers I need.
Keep Learning with Us.
As you continue using Tigersheet, you'll build more skills and be able to increase the agility of work. Tigersheet is flexible enough to meet any business need, so odds are you'll find new ways to get more done, faster. And pretty soon, you'll be teaching us a thing or two!



IT
5 Big Challenges facing CIOs and IT leaders in Pandemic 2021

LCNC
The Ultimate Guide on How to Find a Low code/No code Platform for your Business

LCNC
5 Important Metrics to Measure the ROI of Low-Code

LCNC
8 Essential Factors of Low-code/No code Software


LCNC
The Best No-code Apps for Website Development

IT
Task Management App Vs. Work Execution Platform: What Do You Need and What's the Difference?

IT
Digital Transformation: 7 Important Questions for Your Organization

LCNC
7 Reasons Why Low code is the Ideal Solution for Business

IT
Top 10 Types of Software Every Business Needs-Infographic

General
The Best Airtable Alternatives to Look Out for in 2021 and Beyond