F
eature: Import Excel Data to Tigersheet
Do you have a large amount of data is housed in Excel and wish to import that to Tigersheet? We have got you covered!
You can greatly benefit from Tigersheet's importing capability. This allows you to bring your Excel record to the platform while saving in a lot of time and effort that can otherwise go into creating a sheet from scratch.
Start by Visiting 'New Application Pack'> Create New Tigersheet> Import from Excel
To create a sheet from Excel Import, click on the option 'Import from excel' and chose a file (CSV, XLVS formats only) from your computer.  
Make sure to give your sheet a name. Once done, press "Create".
The system will show a preview of the sheet that is being imported and will give you options to select the worksheet, header row, columns you wish to import and define their types.
You can choose to import data from that sheet as well. If you don't want to import data but just wish to create the structure, check the checkbox 'don't import data'.
In case the data import has failed, Tigersheet will allow you to export the failed records with error logs. You can make corrections to this file itself and re-import it to add only the failed records.
The setup below shows an excel sheet 'Contacts' being imported from Excel to create a Tigersheet 'Records'.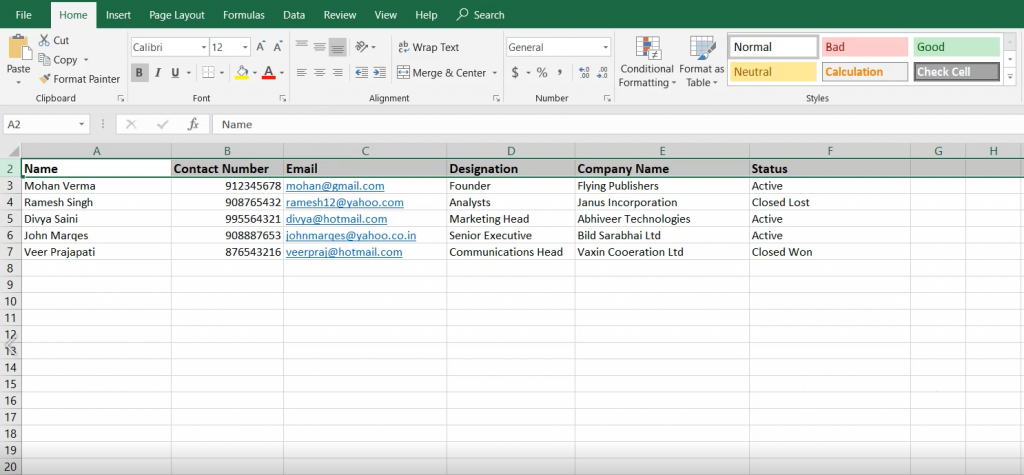 This example can be seen live in the video below where a Lead sheet with records is being imported in the Lead Tracker Application for a Company.


Product
Everything You Should Know About Event-Triggered Messaging Unleashed!

Features, Tips & Tricks
Email to Tigersheet: How to Parse Email Data to Sheets

Features, Tips & Tricks
Build Powerful Web Forms with Tigersheet [ DIY Video Guide Included]

Features, Tips & Tricks
The Joy of Reporting in Tigersheet- An Interactive Video Guide to Keep Your Work Sorted!


Features, Tips & Tricks
Feature: Creating a View to Group and Filter Data[ Video Guide]

Features, Tips & Tricks
Feature: Design Custom Print Templates

Product
How to Build a Custom CRM with Tigersheet- (No Coding Involved)

Product
Feature: Import Excel Data to Tigersheet

General
5 Most Horrifying Excel Blunder Stories that Will Make You Rethink Your Choices

Bussiness
GDPR Demystified- What it means for Business and How to ensure that you stay GDPR Compliant?